Minister Adam addresses 11th Ordinary Session of the EASFCOM-'Regional stability key to development'
17-September-2011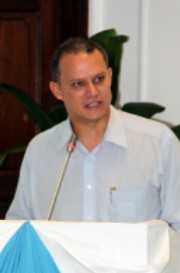 Speaking as the guest of honour at the opening of the 11th Ordinary Session of the Eastern African Committee of Defence and Security, on the fourth day of the EASFCOM conference taking place at Le Meridien Barbarons this week, Mr Adam said that "we should never ignore the fact that without peace and security, there is no development".
"Our sub-region and the African continent should remain focused on the bigger objectives of peace and security while paying attention to the strategic and corrective measures required to pre-empt factors that undermine this vision and agenda," added Mr Adam.
The minister also applauded the work and growth of EASFCOM to collectively work together, fostering strong ties of friendship and collaboration in order to achieve peace and unity for the region.
"Today's meeting is important to the region as it is a demonstration of the unshakeable commitment of each and every member state in the regional institutions of peace and security."
During his opening address Minister Adam also called on the organisation to work towards helping the continent find its own solutions to addressing some of the more pressing problems including facilitating peace and stability in Somalia.
However, he added that they needed to continue to encourage the developed world to recognise severe threats being faced by Africa as a result of climate change.
"We follow with concern the humanitarian situation throughout the Horn of Africa. It is clear that the spectre of climate change will always exact a heavier toll on those most vulnerable. As members of the developing world, we must continue to work together to strengthen our defences against the increased threat of climate change. We should set no illusions for ourselves - climate change is one of the foremost security challenges of our generation, and we must continue to urge the developed world to recognise the burden it places on all our nations.
"Climate change locks in the cycle of poverty. Climate change breeds conflict and disaster. We must strengthen our environmental defences. "

This committee meeting was held in advance of the ministerial meeting taking place today, where Defence ministers of the member states will convene to address the pressing issues of the region.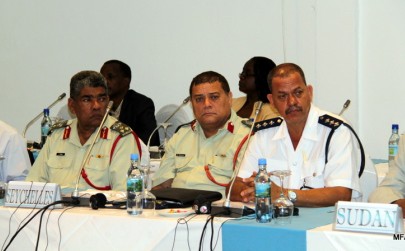 The first four days of the conference consisted of technical meetings of the Expert Working Groups.
The ten active member states of the EASFCOM are Burundi, the Comoros, Kenya, Djibouti, Ethiopia, Rwanda, Seychelles, Somalia, Sudan and Uganda.
Seychelles has been part of the EASFCOM since it came into force and has been active in many of its activities. Many Seychellois nationals have benefitted from numerous trainings (often funded by EASFCOM or co-sponsored by international partners) from the military, police forces, non-governmental organisations, legal experts, maritime officers etc.