Comesa SG calls on President Michel
17-September-2011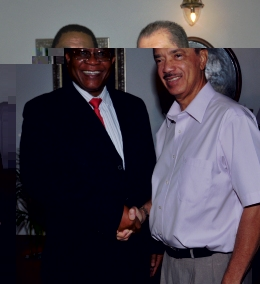 The meeting saw a number of pertinent points discussed, among them climate change, where Mr Ngwenya said the Comesa is ready to support Seychelles.
"Countries like Seychelles, as small island states that are vulnerable, the climate change issue has the potential to threaten the very survival of its people, as certain economic activities can turn out not to be sustainable," he said.
"We also discussed the specificities that affect the member states of the Comesa that are island countries, specifically the interconnectivity with regards to maritime transport, telecommunications and so on."
Mr Ngwenya said he also briefed President Michel on the Comesa economic transformation programme, which has been adopted and requires that each member state identify its comparative advantage, such as tourism or fisheries, and how it can exploit them to the benefit of the country and region.
"I can say that one of the challenges that Seychelles faces when it comes to the fisheries sector, even with one of the largest tuba processing factory, is that the country is not getting the maximum benefits from it," he said.
He also praised Seychelles for taking the lead in the fight against piracy, saying Seychelles was "punching well above its weight".
A communique from State House said President Michel urged Mr Ngwenya to consider the vulnerabilities of small islands states within the decision-making processes of Comesa, particularly in relation to infrastructure projects.
"Regional organisations such as Comesa need to consider projects for small island states when they are planning infrastructure projects on mainland Africa. Islands should not be forgotten, and we need to ensure that island specificities are taken into consideration when assessing our eligibility for funding mechanisms," the communiqué quoted President Michel as saying.
Mr Ngwenya was in Seychelles for the signing of the Comesa's Comprehensive Africa Agricultural Development Programme (CAADP) which took place yesterday at the Le Meridien Barbarons Hotel.