Agreement signed for new customs department system
17-September-2011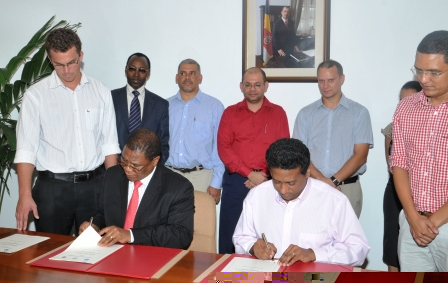 The new system, called the ASYCUDA World, will replace the current system, which is the ASYCUDA ++. The World version is a web-based system, which costs over US $55,000 and Comesa will give the Seychelles government a grant of US $45,000.
A memorandum of understanding for the grant was signed by the secretary general of Comesa Sindiso Ngwenya and Vice-President Danny Faure on Thursday at State House.
The project will give the customs department a state-of-the-art automated system to increase the department's operations capacity, by introducing modern computerised declaration processing facilities for import and export through Seychelles.

This will be done with respect to international standards and best practices.
The principal secretary for information communication technology Benjamin Choppy said the new system is completely web-based and can be accessed with as little as a computer and an internet connection, compared to the previous system.
This is in comparison to the previous system, where there would have to be special configurations to the computers.
The project will be implemented by the department of information communication technology.