10th All-Africa Games in Maputo, Mozambique-Final Seychelles' contingent returns
19-September-2011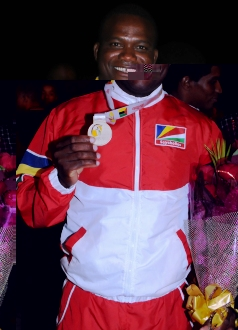 The curtain fell on the quadrennial Games yesterday after 15 days of fierce competition in Maputo and Team Seychelles won 11 medals – one gold, two silver and eight bronze.
Sailor Allan Julie was the country's only gold medallist in the Laser standard class.
The two silver medals came in badminton and were won by the pair of Georgie Cupidon and Alisen Camille (mixed doubles) and the duo of Alisen Camille and Cynthia Course (women's doubles).
The bronze medallists are: Georgie Cupidon and Steve Malcouzane (badminton men's doubles), Georgie Cupidon, Steve Malcouzane, Kervin Ghislain, Alisen Camille, Cynthia Course and Danielle Jupiter (mixed team event), Rodney Govinden (Laser standard), Shrone Austin (swimming 800m and 1,500m), Lissa Labiche (women's high jump), Lindy Leveau-Agricole (women's javelin) and William Woodcock (men's high jump).
Although Team Seychelles won the same number of medals as in Algiers, Algeria in 2007 at the ninth Games, the result then was far better with two gold, three silver and six bronze.
The gold medallists were sailor Meggy Gertrude in the Laser 4.7 class and the badminton mixed doubles pair of Juliette Ah-Wan and Georgie Cupidon and their exploits came 29 years after Seychelles made its debut in the quadrennial Games.
Seychelles' highest medal haul at the All-Africa Games is 16 and that was in Abuja, Nigeria, in 2003 with 10 silver and six bronze.
In 1999, Seychelles got only two silver medals, in swimming and weightlifting, as well as six bronze at the Johannesburg Games.
In the Harare Games in 1995, Seychelles collected two medals – a silver and a bronze – in boxing.
The Cairo Games in 1991 brought three medals – a silver and two bronze – while in 1987, the country managed two medals – both bronze.
The country made its debut at the All-Africa Games in 1978 in Algeria.
Meanwhile, neighbours Mauritius won four gold medals in Maputo through female beach volleyballers Natacha Rigobert and Élodie Li Yuk Lo, and boxers Bruno Julie, Richarno Colin and Kennedy St Pierre.
Madagascar did not win any gold medal in Maputo.
G. G.