Air Seychelles gets two new first officers for its B767
19-September-2011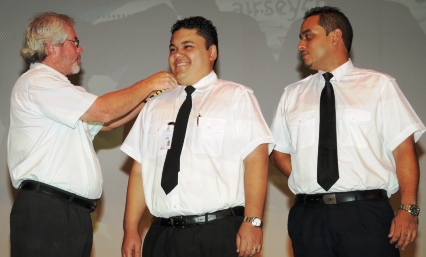 They received their bars from the airline's outgoing executive chairman Maurice Loustau-Lalanne during a Air Seychelles general staff meeting on Friday at the University of Seychelles campus at Anse Royale.
Present at the ceremony were the Minister for Home Affairs, Environment, Transport and Energy Joel Morgan, the airline's deputy chief executive Garry Albert, its board of directors and staff.
Mr Imaduwa joined the national airline in 1997 as a cabin crew after completing his A-level studies at the Seychelles Polytechnic.
He then worked for four years as a cabin crew before pursuing his training for his commercial pilot's licence in South Africa.
After successfully completing this training, he started as a co-pilot with the domestic on the Twin Otter and was later promoted to captain.
On arrival of the Shorts 360 aircraft, he completed his training and was promoted to first officer on the aircraft and on 2009 was promoted to captain on the same aircraft.
Mr Lautee joined Air Seychelles is 2004. He completed his Twin Otter training and started his career with the national airline as co-pilot. Two years later he successfully completed in command training on the Twin Otter and was promoted to captain. In 2007, he also completed his Shorts 360 training as a first officer and in 2009 promoted to captain on the same aircraft.
Earlier this year, both pilots were selected to be first officers on the B767.
They began intensive B767 type conversion training with a flight simulation company at Schiphol Airport in Amsterdam. This was followed by a base training in Seychelles and three months of line training on the aircraft under the supervision of Air Seychelles instructors.
In August both pilots passed their final line checks successfully.
To date the national airline has 17 captains of which five are non-Seychellois as well as 17 Seychellois first officers.