R122m redevelopment plan for Corgat Estate
19-September-2011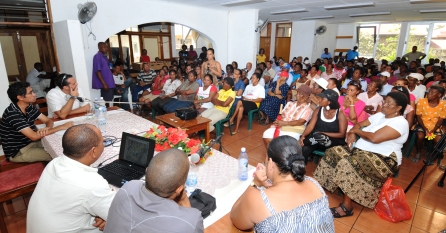 The project, expected to be completed in April 2016, will include demolishing the houses and replacing them with blocks of two and three-bedroom flats.
Work will be done in two phases – Upper then Lower Corgat Estate.
The project was presented to residents at a meeting held on Saturday at the Mont Fleuri district administration.
The residents were able to get information, seek clarification and put their concerns forward to a panel, who included the principal secretary for land use Christian Lionnet, director for project implementation in the department of land use Yves Choppy, and Housing Financing Company's (HFC) general manager for estate management Timothe Sinon.
They were told that, as their houses are about to be demolished, they will be moved temporarily to the Ile Perseverance village and the choice will be theirs after that to return to Corgat estate or stay at Ile Perseverance.
A clinic by the main road and at the entrance to Corgat estate is also set to be demolished, and the panel said prices for individual tenants will be calculated and each household will be informed as the project develops.
A number of issues were raised by the residents present, such as whether there will be bedsitters for residents living alone, to which the panel said none would be available besides the two or three-bedroom flats.
Others wanted to know if the buildings would cater for people with disabilities, and was told that they would be given priority to the houses on the ground floor.
Certain people wanted to know if they would be compensated for whatever additional spending they had accrued over the years, such as putting in burglar bars, and were told they would not be reimbursed.
The resident also learned they would also not receive burglar bars with their new houses upfront, but the security issue would be considered and that would mean a possible increase in their rent since it would be an additional cost to the project's budget.
Queries were also raised about pensioners' abilities to afford their new houses, to which they were told existing schemes are already in place to cater for this and others still raised the uncertainties as to who would be considered as priority to get the houses.
The panel said the first phase will be going on tender soon and the contract is expected to be awarded by the end of the year.
The project will be financed by the government.