Good turn-out at election monitoring course
20-September-2011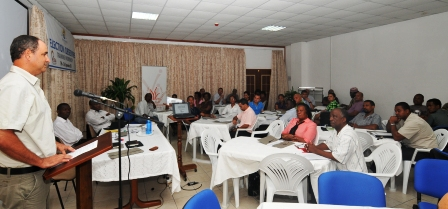 The watchdog group, set up by a group of citizens to promote principles of democracy, good governance and fair elections, has met the requirements of an electoral monitoring group. As such it will be observing the September 29 to October 1 National Assembly election.
The course, managed by the Electoral Institute for Sustainability of Democracy in Africa (Elsa), was launched by the NGO's chairman, Steve Lalande.
Among those present, were the acting chairman of the Electoral Commission, Gerard Lafortune, and fellow member Dr Marie-Thérèse Purvis, representatives of the Catholic and Anglican churches and various NGOs, as well as Viral Dhanjee, presidential hopeful in the May 21 election.
Welcoming the members to the three-day course, Mr Lalande said training for election monitoring is a rare event, but a noble one.
He noted that the forthcoming parliamentary election is the first in which Seychellois representatives of civil society will be taking part as observers.
He said that takes courage, but now the monitors need guidance, before they can "walk the talk."
Mr Lalande thanked the Electoral Commission's Office which has helped finance the course.
Mr Lafortune -- who was replacing the commission's chairman Hendrick Gappy, presently in Singapore with representatives of Parti Lepep and the PDM to oversee printing of ballot papers -- said we are witnessing history in the making as it is the first time in Seychelles' history that a local organisation has met the requirements to be accepted as an election monitoring body.
He recalled that though Seychelles switched to a multi-party system 18 years ago, democracy does not take place overnight. He said though significant changes have taken place, more changes need to be made.
Mr Lafortune said the Commonwealth and other foreign monitoring bodies at the last presidential election made a number of recommendations, the main one of which was to constitute an independent Electoral Commission to replace the one-man Electoral Commissioner.
"This has been done, but is only a start," he said, noting that the electoral process is still bound by existing laws and the Constitution, which cannot be changed unless there is a parliament sitting.
Mr Lafortune told the course participants that ensuring free and fair elections is not an easy task.
"It is a very fine line which you will have to walk. Despite your intention to be fair, you will have to face opposing views and criticisms."
He said that after any election, it is usual that not everybody is happy.
The course is being run by two Elsa officials, Lucien Toucon of Cameroon and Robert Gerenge of Kenya.
It covers electoral practices, polling procedures and other election aspects.
The Citizens Democracy Watch (Seychelles) is made up of a committee of seven, which, besides Mr Lalande, also includes Monica Servina as deputy chairperson, Jean-Claude Matombe as treasurer and Eline Moses as secretary. New members are welcome to join and the NGO is for the time being based in Room 209 , Orion Mall.