New Portuguese ambassador accredited
21-September-2011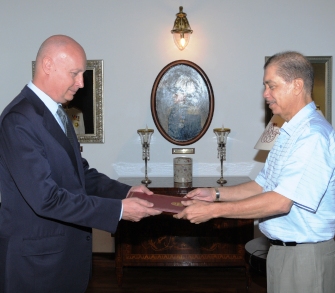 Mr Vassalo also called on Vice-President Danny Faure yesterday for more talks.

Based in Nairobi, Kenya, the diplomat replaces Luis Lorvao, who was accredited here in 2007.
Mr Vassalo said he will work to further strengthen the good cooperation between Portugal and Seychelles in various fields during his mandate.
"Portugal and Seychelles have had cooperation agreements in various fields in the past and the two countries have supported each other on the international arena. I hope to continue with this," he said.
Several issues dominating the international scene and further cooperation between Seychelles and Portugal were explored between President Michel and Mr Vassalo.
The Portuguese diplomat said he discussed bilateral issues and challenges facing our two countries with Vice-President Faure.
He described the relations between the two countries as "good" and hailed Seychelles' support for Portugal in international fora.
He said Portugal also supports Seychelles in the fight against piracy as it understands the threats it poses to our livelihood.