Cricket: Eden Cup-Eden Kings clinch thriller
21-September-2011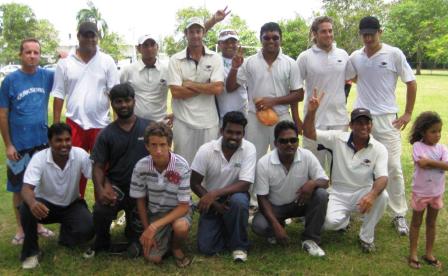 Eden Kings were elected to bat first after winning the toss, but they lost Tim and Ganapathy early and cheaply. Hari and Christo then steadied the innings with an important partnership. Hari scored 33 runs with 4 fours and a six, while Christo made 17 runs with 3 fours.
After the dismissal of these batsmen, the upcoming batsmen – Jonathan, Patrick, Khan, and Alex – failed to contribute and could not reach double figures.
Vijay bowlers came back well in the game, picking up 8 wickets in no time. As a result, Eden Kings folded their innings on 90 runs in 23.3 overs.
For Vijay 'A', Mukesh picked 4 wickets for 13 runs and Arvind claimed 3 scalps for just 12 runs, while Kaushal and Prakash got 1 wicket each.
In the run chase, Tim picked up the openers early – Ramesh 15 runs with 2 fours and 1 six and Govind for 0.
Vijay 'A' lost Kaushal for a duck and Arvind for 8 in consecutive overs as they struggled at 41 for 5.
As the pressure increased, next to depart was Vijay 'A''s rescue man Dheeraj for 5. The runs were coming but Vijay kept on losing wickets. The match then went so close with Vijay 'A' requiring 18 runs with 1 wicket in hand. Dinesh hit a six and a four to Khan but fell in the next ball for 15, handing over victory to Eden Kings by 2 runs in a tight low-scoring contest.
The victory was dominated by tight bowling from Eden Kings bowlers. Tim took 3 wickets for 20 runs, Alex claimed 2 scalps for 28 runs and Hari picked up 3 wickets for just 12 runs.
In the semifinals, Vijay 'A' beat 777 and Eden Kings defeated Vijay 'B' to reach the final.
Aritra Das