Football: Barclays league division one-Will St Louis Suns survive the drop?
23-September-2011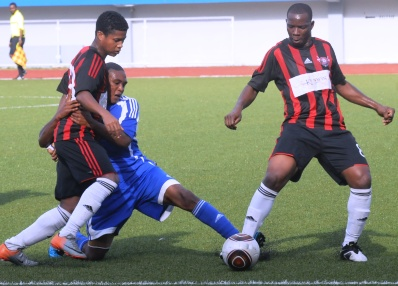 St Louis Suns always feature among the title chasers at the start of every football season, but this time they find themselves fighting for their survival in the big league as they carry the weight of the league with five points following just one win and two draws in 10 games played.
Why is it that a big team like St Louis Suns are finding it hard to earn results and are fighting the relegation battle just past the half-way stage of the league campaign?
"It's a mentality problem," coach Mathiot told Sports Nation yesterday.
"Players are used to receiving money every time they play a match, but now that the club does not have the money, players are not motivated. There is very little I can do as a coach to make them change their attitude. It's up to them to play hard.
"Most of the players also don't care about playing for a big team like St Louis Suns. They are not ready to play their hearts out for the team and don't feel the pride to wear the team's shirt.
"Today's players aren't like those of my generation who played the game because they loved it and battled hard on the field to defend their team's colours," added former Seychelles international non-nonsense defender Mathiot.
The supporters expected a lot from the players and the team this season after a superb finish last year in the Land Marine Cup which they won by edging La Digue-based La Passe 1-0 in extra-time thanks to a Fabien Cadeau 98th minute header.
But this year, St Louis Suns have been dumped out of the Land Marine Cup, lost to eventual Airtel Cup winners St Michel in the semifinal and lost to the same St Michel team in the President's Cup.
With no silverware to play for in a barren season, St Louis Suns players have to turn their attention on fighting for survival and it does not look to be an easy task taking into account the string of four consecutive defeats in three competitions.
With players like Jonathan Bibi, Trevor Poiret, Brian Dorby (all three members of the Indian Ocean Island Games gold medal-winning Seychelles team), Mervyn Mathiot, Damien Maria, Denis Barbé, Fabien Cadeau and Yannick Charlette, St Louis Suns are too good a team to make the drop and it's up to the players to take their responsibility on and off the pitch to start winning matches to save the team.
St Louis Suns' next match is tomorrow at Stad Linite against Anse Reunion who are also going through a bad patch of results with three defeats in four games.
It would be interesting to see who between the two will start winning…
"We can still avoid the drop, but all will depend on how hungry the players are for wins in the remaining eight games," said Mathiot, who added that the supporters must understand that he can only coach the team but not play.
"Some supporters have been saying that I should go. This is not a problem. But as a coach I can do very little to replace the financial gains players had been receiving in the past and which served as a motivation to play well and hard.
"Other supporters have been saying that the team should recruit foreign players. But where will the team get the money? If supporters really want this to happen, they should contribute financially because managing a football team is not a business. We have people investing their own money in the team and it's not easy for them to inject any sum at any time," noted Mathiot.
If players on the St Louis Suns team don't get their act together and start winning matches, they are very likely to live the same experience as Red Star who disbanded at the end of the 2008 – a year after their 13-year stay in the country's top flight ended.
Red Star, who represented Seychelles in African club competitions on many occasions, made the drop to the second-tier league after a nightmarish 2007 season. They could only finish fourth in the Barclays league division two in 2008 after many of their top players left for first division football with other big teams.
A very good cup side, Red Star won the prestigious Cup competition – previously Homemakers Cup and now Land Marine Cup – four times, the curtain-raiser President's Cup on four occasions, the Airtel Cup twice and the league title twice in 1998 and 2001.
G. G.