Judges and lawyers look for speed in class
24-September-2011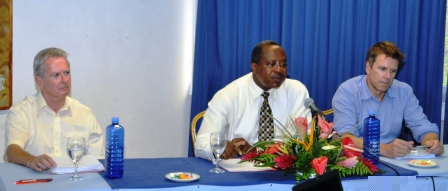 The seminar in progress

Members of the public have often said cases take too long before they are settled by our courts, urging faster resolution in a call strongly supported by President James Michel.
Soon after he took over as chief justice two years ago, Fredrick Egonda-Ntende announced sweeping changes and set time frames within which cases should be dealt with, but also said training of judges and lawyers is an important part of the speeding up efforts.
Among those who attended the two-day seminar were members of the judiciary, of the Bar Association of Seychelles and of the attorney general's chambers.
It was organised by the Commonwealth Secretariat and the judiciary.
Among the trainers were Mark Guthrie of the Commonwealth Secretariat and John Wheeler of the Jersey Royal Court.
Mr Egonda-Ntende welcomed the "emerging partnership and cooperation between the Commonwealth and the Judiciary of Seychelles".
"I would like to thank the facilitators for accepting to share their experience, knowledge and skills with us," he said.
When we were organising this programme we wanted a resource person from outside this jurisdiction but one who shares much of what are going through. We wanted a resource person from a jurisdiction that has similarities with our jurisdiction.
"In choosing Mr Wheeler we got a resource person who exceeds those expectations. He is from Jersey, an island state just like Seychelles. Jersey is a hybrid jurisdiction with significant elements of French law still applicable as is the case with Seychelles.
"French is one of the most widely spoken languages in that jurisdiction, just as it is a national language in Seychelles. Jersey is a significant offshore financial centre. Seychelles is a growing offshore financial centre.
"My hope is that as a jurisdiction we can learn from other jurisdictions that have been successful in judicial reform and work similarly on our reforms to ensure that court users' legitimate expectations and demands are met by the civil justice system," he said.