Seychelles initials tax data exchange accord with the States of Guernsey
24-September-2011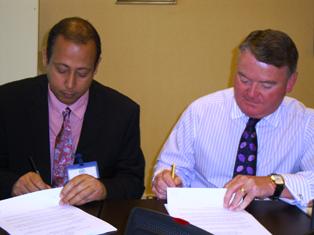 The agreement was initialed on September 8 in Johannesburg by the director general for Policy and Strategy Division at the Ministry of Finance and Trade, Rupert Simeon and on behalf of the States of Guernsey by the director of Income Tax of the Treasury and Resources Department, Robert Gray.
"The signing of this agreement will bring our TIEA network to a total of 9 and will complement our growing network of agreements for the avoidance of double taxation (DTAs) that Seychelles is also expanding," says a communiqué from the Ministry of Finance.
"Although Seychelles maintains a priority in entering into DTAs (within which the parameters of a TIEA is contained), it does favourably consider requests from other jurisdictions to enter into TIEAS without establishing a DTA if that jurisdiction provides unilateral relief to residents on income from that other jurisdiction, if tax has been paid in that other jurisdiction," adds the communiqué.