Seychelles happy with French travel fair
24-September-2011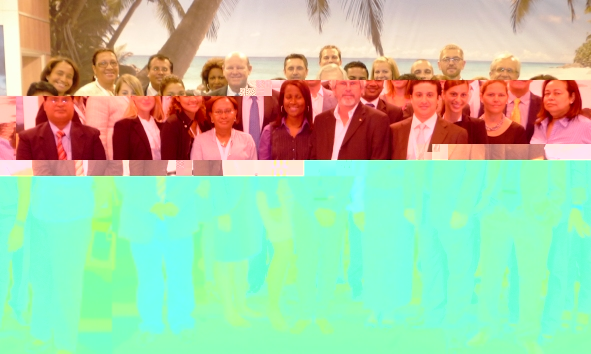 Seychelles Tourism Board (STB) chief executive Alain St Ange, who headed the 18-strong delegation of Seychelles tourism professionals, said the support received from the French media surpassed all expectations and that the Tour Operator meetings confirmed that Seychelles was today occupying a special place as the 'holiday destination on demand'.
The Seychelles private sector delegation working with the islands' tourism board on the French market at Top Resa 2011 were Air Seychelles with Maurice Loustau-Lalanne, Bram Steller, Gilles Gosselin, Laurent Quemener, Francoise Cristina, Nicole Mancienne and Genevieve Bertin, Berjaya Beau Vallon Resort & Casino with Johnette Labiche, Creole Travel Services with Guillaume Albert, Desroches Island with Amanda Lang, Kempinski Seychelles Resort with Sanjay Nair, Le Méridien Seychelles with Mathieu De Tonnac, Le Relax Hotels with Rakesh Rai and Robert Toussaint, Mason's Travel with Paul Lebon, Raffles Praslin Seychelles with Jennifer Delord and Seychelles Connect with Daniella Alis and Laurent Alis.
Bernadette Willemin, the STB director for Europe, and her staff – Laetitia Duchet, Karen Confait and Jennifer Dupuy – were also part of the official Seychelles delegation.
Claude Morel, the Seychelles ambassador based in Paris, also paid a visit to the Seychelles Top Resa Stand and discussed with the participating trade.
During the days of Top Resa 2011, the Seychelles signed a working partnership agreement with Reunion.
It was Mr Didier Robert who personally signed on behalf of Reunion and Mr St Ange of STB signed on behalf of Seychelles. A second convention between the STB and Air France was also signed on the Seychelles stand at Top Resa. This agreement was signed by Mr Alain Malka, the senior vice-president of Air France for the Caribbean and the Indian Ocean, who signed on behalf of Air France with Mr St Ange signing on behalf of Seychelles.
The Seychelles delegation also took part in the Vanilla Islands press conference where Mr St Ange also delivered a short presentation on Seychelles.
"As a whole the Seychelles stand at Top Resa 2011 was busy with quality meetings and the delegation worked hard to keep Seychelles visible as the destination of choice for French holiday makers," said Mr St Ange.