Seychelles Islands wows Ugandan travel market at Bridal Expo
24-September-2011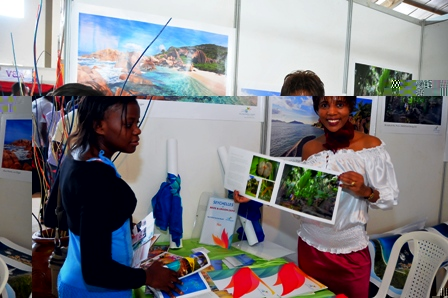 Seychelles was represented at the Bridal Expo by Amia Jovanovic-Désir, the Seychelles Tourism Board's senior marketing executive, along with the representative of Seychelles' 7° South, Mary Bonne. The Seychelles representatives had the full support of the Seychelles Tourism Ambassador for Uganda, Pearl Hoareau and her team based in Kampala.

Mrs Jovanovic-Désir said this was the first time Seychelles was represented at the Bridal Expo in Kampala, Uganda.
Part of STB's marketing strategies this year is to target new emerging markets especially those that have potential growth and also increase the destination presence and visibility all over the world.
For her part, Mrs Bonne said: "The third Bride and Groom Expo was the perfect platform for Seychelles as a prime holiday destination to showcase what it has to offer alongside competitors in the region."
"Having assessed the essence of the fair we went there with some clear objectives that is to get to know the expectations of the Ugandan travels trade and consumers. Our presence at the exhibition has no doubt helped us to raise the visibility of Seychelles in Uganda," added Mrs Bonne.
The stand attracted many people from various professional backgrounds.
Mrs Jovanovic-Désir noted that from the different discussions and interactions they have had with the trade, tour operator, the media as well as consumers, it was clear that there is a strong demand for more affordable products.
Elaborating on the tourism board's future strategy, Mrs Jovanovic-Désir said that we have to expand our trade and marketing activities to reach wider consumer segments; thus, offering customised range of holiday options in both value-for-money and the luxury categories.
"We were also amazed by the strong interest shown by the visitors to our stand and their eagerness to know more about the destination. This clearly depicted that we should be proactive towards the market and the region with the aim of keeping the trade and consumers aware of what Seychelles has to offer," stressed Mrs Jovanovic-Désir.
After the fair, the Seychelles representatives conducted a workshop on September 6 with some key tour operators, who expressed their appreciation of receiving the long-awaited Seychelles exposure.
While in Uganda they also had discussions with the country manager of Kenya Airways in Kampala, who has offered complimentary airline tickets for tour operators for familiarisation visits to Seychelles.
This will give them the opportunity to increase their knowledge of the islands and experience the Seychelles destination from a clients' perspective with the aim of boosting sales.