Football: Barclays league division one-St Michel keep winning
24-September-2011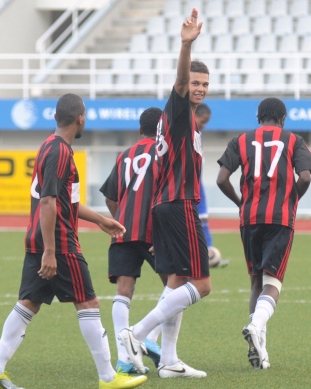 The win helped St Michel open an 11-point lead at the top of the league table over La Passe with six matches remaining in the title race.
The spectators had hardly taken their seats on Thursday when St Michel opened the scoring in the first minute as Wilnes Brutus broke clear to centre to Karl Hall who scored to make it 1-0.
The goal spurred St Michel on as it set the tone for the match which they dominated, but it was poor finishing that kept the scoreline at a premium with striker Leeroy Corallie the main culprit.
The defending league champions could only add to their goals tally in the 33rd minute as Hall returned the favour to Brutus with a pinpoint cross which the former Red Star striker hit first-time past goalie Jules Monnaie for a 2-0 score.
However, St Michel were frustrated as Dynamo tried to limit the damage, especially after watching this same side rip Agrics apart in the Land Marine Cup on Monday.
St Michel tried to add impetus to their forward line as they brought on Andy Mougal, who had scored four against Agrics, for Corallie.
In the 50th minute, Mougal saw his free-kick cleared to colleague Joel Barbé whose low drive flew just wide.
Two minutes later at the other end in a swift attack Marcus Maria picked out Evans Télémaque with a cross-field pass and his rasping shot almost caught Michel goalie Gino Melanie off-guard.
Dynamo threatened again in the 58th minute as defender Steve Henriette ventured forward and put in a decent cross to substitute Elvis Julius whose glancing header sailed across the face of goal.
A minute later, Julius pounced on Malagasy Jimmy Radafison's mistake but St Michel soon snuffed out the danger.
On the hour mark, St Michel came close to extend their advantage as Alex Nibourette and Don Anacoura played a neat one-two to open the Dynamo defence but the former's near post shot was saved by Monnaie.
In the 67th minute, Hall made space for himself on the penalty edge and his raking shot was fumbled by Monnaie who recovered quickly to cut out the danger.
St Michel continued to enjoy plenty of possession but Dynamo dropped deep and packed their defence to stop them from scoring.
The Anse Aux Pins outfit made two substitutes to try to inject more pace to their attack but Dynamo did not crack.
St Michel were even reduced to 10 men 10 minutes from time as Mougal limped off with an ankle injury following a strong challenge.
So the closing minutes were just a keep ball period for St Michel who almost gave away a goal when Radafison lost the ball to Télémaque who rifled at goal but was just off target.
St Michel collected three more points as they close in on retaining their league crown.
R. J-L.