China celebrates 62nd National Day-China a faithful partner to Seychelles
26-September-2011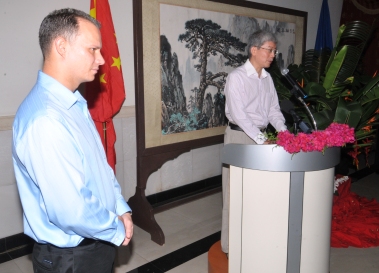 Foreign Affairs Minister Jean-Paul Adam said this on Friday evening at a reception to mark China's 62nd National Day anniversary.
Attending the event held at the Chinese embassy, St Louis, were President James Michel, former President James Mancham, Vice-President Danny Faure, chief justice Fredrick Egonda-Ntende, ministers, high government officials, Chinese ambassador Wang Weiguo and Chinese nationals.
Addressing those present, Mr Adam said Seychelles highly appreciates China's clear and unequivocal commitment to support important national projects. These include the future housing estate at Les Mamelles and the Glacis primary school, the donation of two aircraft to fight piracy, the construction of the National Assembly building and soon the new judiciary complex.
He also expressed the gratitude of the people of Seychelles for these projects which have helped make a real difference in their lives.
"I am optimistic that in the near future, cooperation in such fields as trade, investment, tourism, transportation links and renewable energy will be enhanced," he said.
Mr Adam added that the two countries have been enjoying high bilateral cooperation in many areas.
China is playing a leadership role in economic development in science and technology, in arts and culture – in the universe of ideas.
"Despite leading in all these areas, China has not hesitated to ask Seychelles for its ideas and for its views," he said.
"Though different in size, Seychelles and China have shown themselves to be partners that share ideas for the mutual benefit of their people."
China and Seychelles share values, friendship, history and the vision of the future which are embedded in the same principles.
This year Seychelles and China celebrate 35 years since establishing diplomatic relations and will celebrate 150 years in 2012 of Chinese presence in Seychelles.
"It is a relationship which is strong, and which reminds us that the harmonious society can exist in the international realm as well," he said.
Mr Adam saluted ambassador Wang for his untiring efforts to ensure that the cooperation between the two countries goes from strength to strength.
He also proposed a toast to the good health and prosperity of the President of the People's Republic of China, Hu Jintao, and to the friendship between the people of Seychelles and China.
In his address, Mr Wang said, over the past 35 years China and Seychelles have supported each other in domestic and international affairs.
The exchanges and cooperation in various fields have been promoted steadily, which has profoundly benefited the two people.
"In spite of the geographic distance, exchanges between our two sides in education, culture, health, sports, tourism and other fields are flourishing this year," he said.
"We notice with great pleasure that the Seychellois people carried out democracy in a peaceful way and chose their own leader wisely in the presidential election. We sincerely rejoice at Seychelles victories during the 8th Indian Ocean Island Games," he said.
He expressed his appreciation to the Seychelles government for its consistent support, and paid high tribute to friends who have long been devoted to the promotion of friendship between China and Seychelles.
"As the Chinese ambassador, I'm fully convinced that our bilateral relations will be further developed and strengthened in the years to come," he said.
He then proposed a toast to the prosperity and happiness of the people of China and Seychelles, to the close and lasting friendship and cooperation between the two countries and to the health of all the distinguished guests and their families.