SADC election observers happy suggestions acted on
26-September-2011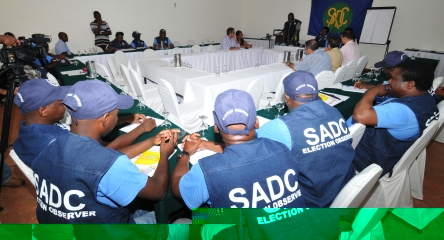 They were here for the May 19-21 presidential election when they proposed that local election observers be allowed to take part in future elections.
Among those present at the launch were Foreign Affairs Minister Jean-Paul Adam, representatives of foreign missions based here as well as Steve Lalande and Eline Moses of the newly accredited non-governmental organisation – Citizens Democracy Watch (Seychelles).
"The SADC is delighted to note that in addition to foreign observers, local observers have also been allowed to observe the parliamentary election as was recommended in May 2011," said delegation head Rosemary Mashaba.
"I wish to officially announce the arrival of the SADC Electoral Observer Mission in Seychelles," she said.
The director of the SADC Organ on Politics, Defence and Security Affairs Lt Col Tanki Mothae also commended Seychelles for having already implemented some of the changes the May mission recommended, noting they were mainly informed suggestions which the country was at liberty to adopt or not.
He said the team has over 20 members who will ensure they visit all the areas where elections will be taking place in the archipelago.
"To SADC, the September 29 to October 1 parliamentary election represents the country's endeavour to ensure equal representation and full participation of all citizens in the political process as enshrined in the country's constitution," he said.