Berjaya Resort pledges support to Creole Festival
27-September-2011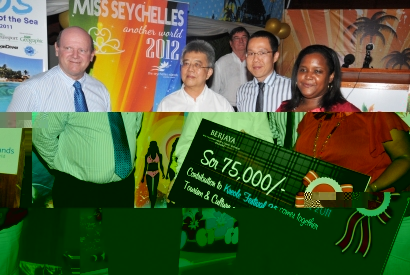 Minister for Social Development and Culture Bernard Shamlaye, who also heads the Creole Festival committee, received the cheque from the hotel's sales manager Erica Tirant.

The official presentation of the donation took place at the hotel on Saturday evening during the Seychelles Tourism Ball, one of the main activities of the Tourism Week.
Berjaya Beau Vallon Bay has for the past years been a valuable friend of the Creole Festival.
The hotel will this year host the Fon Lanmal fashion extravaganza scheduled for October 28, an event which general manager Ken Choo said will showcase the unique Seychelles culture to all hotel guests as well as the local people.
In his address, Mr Choo said the active partnership between government and private sector is vital in facing the many challenges in this global industry.
"With tourism arrivals improving, it shows that together we have indeed moved on the right path and I have no doubt that as the Seychelles economy improves, so will we," he said.