Up Close … with David Scolastique, the musician who has seen it all
27-September-2011
David has been entertainer to two former presidents of Seychelles, has performed at some of the world's top hotels and played the theme song for an Omar Sharif's film.
His life encapsulates some of the ups and downs of emerging musicians, with a sprinkling of our islands' social and economic history.
Never one to sit around for long, at 61, he is operations manager/entertainer for the Sea Shell Adventure cruises and sings away into the sunset.
David's first song at 18 was Pa plere, mon pe ale, joined by three other young men to form the "Wreckers" in the late 1960s, playing mostly at the Bamboo Night Club at Plaisance. They were Dana Ally, lead guitarist, Michel Alexis and himself on rhythm guitar and Norcy Adrienne as drummer.
Their repertoire was made up of popular hits of the day, including country & western. They also had four Creole songs -- their own compositions -- recorded on an Akai tape recorder at Marc Sullivan's at Beau Vallon.
The songs, including the then popular Larenn mous dimyel was given to Radio Seychelles, which played them often and fast became popular.
In 1973, the band became the "Stillwaters" and Norcy was replaced as drummer by Gabriel Coeur de Lion, who later also excelled as body builder and won the Mr Seychelles title.
Stillwaters regularly entertained at the top hotels of the time -- Reef, Coral Strand and Fisherman's Cove.
After some years, David decided to sell his shares in the band to his partners and joined Harry Prempeh & the Volta Sounds, who had just arrived in Seychelles from Ghana. Prempeh was a descendant of King Prempeh, the king of Ashanti, who had been deported to Seychelles by the British colonial masters for his nationalistic activities.
David recalls that they brought some very modern musical instruments, never before seen in the islands, and entertained all over in the hotels and night clubs. He also got the musical backing for his first album, featuring such songs as Streets of Victoria, With love from Seychelles and Someday, we will meet again.
It was when David formed his own band, "The Palmiers", that the Creole compositions rolled out. They were Si demen nou separe, Selibater, Dan lakour, Mon pous mon pirogue, Vals vwayazer and Portre mon zoli pei.
He recalls that "The Palmiers" was performing seven nights a week, often with a folklorik side show featuring Tonpa playing his zez and Ton Boboy his bonm.
David also availed of the occasions to introduce the Anse Boileau kanmtole band to hotel guests, and it played mazok, kotis and other Seychellois folkloric dance tunes.
By that time in the early 1980s, the Barbarons and Equator hotels had also opened their doors and David was the main entertainer in both -- striking up a strong relationship with Mr Foulan, the Italian general manager of the Barbarons who later moved to Equator.
Among the most memorable events for David Scolastique was his meeting with famous actor Omar Sharif (also known as Cairo Fred because of his Egyptian origin), who shot part of the film "Return to Eden" on Mahe. David sang "Return to Eden", the song's theme song.
Another was his friendship with George Harrison of the Beatles. They met -- after the return of multi-party rule -- while David was entertaining at Chez Batista Restaurant at Takamaka and among the guests were former presidents Albert Rene and James Mancham.
David recalls: "After dinner, we sat on the beach and George Harrison and I played a song together." The official photographer Gilbert Pool shot a photo of David, Harrison and the two presidents. But, unfortunately, he never obtained a copy of the photo.
David then spent two years in Bahrain, entertaining at the Royal Meridien Hotel, where the guests often included the royal family.
In 2001 to 2003, he entertained at various night spots in London, the highlight being a live show on the BBC's Shepherd bash Studio.
This was followed by a six-month stint in Istanbul, where for six months he was the main entertainer at the Grandyaruz Hotel, near the Blue Mosque, one of the Bosphorus landmarks, before a stint in Singapore.
These days, David Scolastique is operations manager/entertainer aboard the Sea Shell Adventure cruises, based at the Ephelia Resort at Port Launay.
I had the occasion to accompany him on a sunset cruise to the Baie Ternay marine Park last Friday. The cruise excursions aboard the brigantine, owned by an Israeli group, in partnership with Corvina Investments, also sail to either l'Ilot, Ile Thérèse, Anse Major for day trips where guests can snorkel and use kayaks, depending on the season.

Besides the Seychellois captain, Evans, the Sea Pearl has a multi-racial crew including South Africans and one Ethiopian.
There are special resident rates. Reservations can be booked with Mona, at a special Sea Pearl excursion stand near the beach at Port Launay.
Last Friday, with the monsoon still in the transition period, the Sea Pearl did not land anywhere, but it was cool sailing to Baie Ternay, close to Conception island, with splendid views of Thérèse and the south Mahé coastline.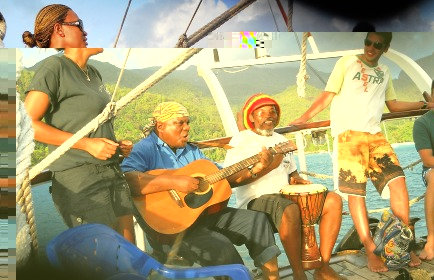 David, accompanied by drummer Daniel Dufresne and pretty hostess Tessa, had a repertoire of both Creole songs and international goodies for the two dozen Ephelia guests on board.
The guests included Walter Teixeira and his beautiful wife, Cecile Dias, probably the first visitors ever from Angola!
Besides some of David's own songs, others included John Wirtz' hits. There were also "Yellow submarine", "American Pie", which soon prompted some visitors with good sea legs to dance away into the sunset.
By John Lablache