Artisans team up to promote local craft
28-September-2011
Some exquisite pieces designed by the two craftsmen are on display and also for sale during this week's exhibition which coincides with the Tourism Week.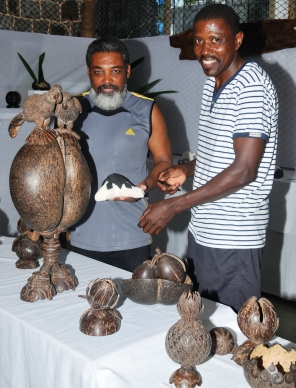 The two men's craft exhibition is being hosted by the Cooperative des Artisans of which they are members.
The principal secretary for Culture Raymonde Onezime launched the exhibition on Monday evening in the presence of various guests and friends of the artisans.
Though very small, the display includes various creations such as tortoise, flower pots, wall decorations, ash trays, beauty accessories to name but some, carved out of wood, bamboo, coconut shells and pieces of coral, all ideal for souvenirs and gifts.
Messrs Rose and Freminot said they have been nurturing the idea to do an exhibition together for some time now and they believe the Tourism Week is an opportune time with the theme being "Tourism –Linking Cultures" which is placing a lot of emphasis on preserving our cultural heritage and developing our creativity through our own innovative ideas.
"We need to preserve our identity and the artefacts displayed here today are proof of that," they said.
The artisans said the fact that the exhibition is being held in the centre of town, the public has a great opportunity to see and also purchase or place order for their products which are made entirely from raw material found here.
"Raw materials abound around us. We just need to see them and use new ideas to transform them into marketable products," said Mr Rose, who has for some time now been experimenting with crafting artefacts from pieces of coral swept on the beach.
Mr Rose, who lives at Roche Caiman, said he gathers the pieces of coral which he transforms into various items at his arts and craft studio in his home at Roche Caiman.
"It is a delicate material to work with but the finished product is wonderful," said Mr Rose.
Both artisans revealed that they have never imported any raw material from abroad for their products.
"Everything we use is ours and is found here," Mr Freminot said.

"This exhibition is to show that Seychellois artisans are full of new ideas and have the skills to produce interesting items using raw material found around us," said Mr Freminot, whose Sailfish Creation Craft Studio at Anse Louis has a large assortment of products made from a variety of local raw material.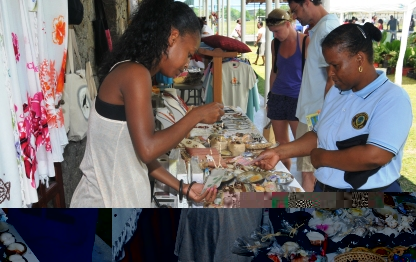 Also to coincide with the Tourism Week activities, more than a dozen other local craftsmen and women are exhibiting and selling their handicraft in a Tourism Bazaar being held in the Senpa compound at Camion Hall .
Creole dishes are also on sale during the week.
The activities will end on Friday evening with a fashion show by models from Telly's Modelling Agency.