Lions Club launches millennium tree planting initiative locally
28-September-2011
The activity, held last Friday, forms part of the Millennium Tree Planting Programme, an initiative taken to plant one million trees around the world to replace the ones that are being cut down on a daily basis.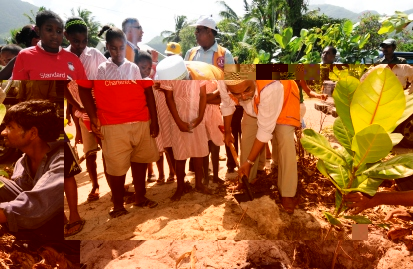 Present for the tree planting activity were Lions Club international director general for the region, Murtza Dungarwalla, Designated Minister Vincent Meriton, members of the LCPS, the school's headteacher Fatima Agathine and teacher in charge of the environment club Damienne Thomas.
Miss Thomas said the students, who are members of the school's Wildlife club and environment club, will be the ones to take care of the new trees.
The LCPS secretary Marie-France MacGregor said a total of 100 trees are expected to be planted in Seychelles which will help protect coastal areas against erosion.
She added that the organisation will ensure that the trees will be well maintained and taken care of by the students.
During his visit, Mr Dungarwalla also paid courtesy visits on Vice-President Danny Faure, Mr Meriton and other government representatives.
He also visited several projects that have been carried out locally by the LCPS.