Horn of Africa crisis-Local Red Cross gets more donations
28-September-2011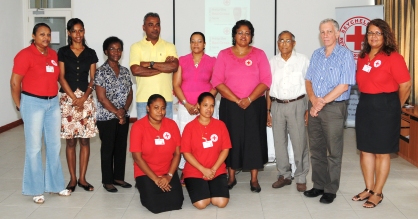 This was said by the Red Cross Society of Seychelles' (RCSS) dissemination communications coordinator Marie-May Bastienne as the organisation accepted more donations for the Horn of Africa crisis.
Local businesses, individuals, organisations and government departments made contributions to the RCSS to help alleviate the malnutrition problem in the Horn of Africa.
More than R30,000 were collected in a small ceremony held last week at the RCSS headquarters in Providence from businessman Willy Lespoire, Mayor of Victoria Antoinette Alexis, the Jean-Baptiste family, Ministry of Health representative Virna Valentin, businessman Yakub Suleiman, and a representative of the Seychelles Tourism Board.
Mr Lespoire called on the rest of society to help save lives and said that the crisis has touched him, especially after seeing children in dire need of food and drink.
Since the launch of the Horn of Africa appeal in August by the RCSS and the Ministry of Foreign Affairs, a total of R125,000 has been collected.
Donations have been made by businesses, private companies and individuals.
The appeal is expected to end on October 19 and so far around 60 donation boxes have been distributed to local companies and businesses on Mahe, Praslin and La Digue.
Mrs Bastienne said the RCSS is not accepting donations in kind, such as clothes because they do not have sufficient storage here and it is also far easier to send money to other Red Cross or Red Crescent offices in the areas of crisis. This money can be used to buy whatever is needed.
"We also have difficulties getting donations in kind to the crisis areas, especially in areas of conflicts, where supplies could be stranded in ports for an indefinite period of time," she said.