Moderators acquire skills to lead national dialogue on social renaissance
29-September-2011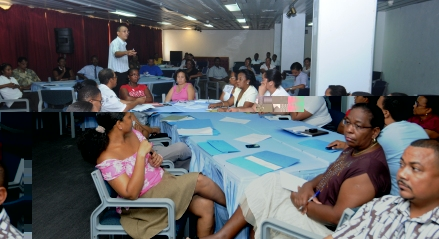 A workshop was organised yesterday for a second group of individuals who will be moderators and secretaries leading the discussions and taking notes.
These individuals have been chosen at district level and in their workplaces, as they have experience in leading lively group discussion and are strong communicators.
The dialogues will be in three phases as they will take place in all districts, at secondary and post secondary schools and in different workplaces.
At school, the focus will be to see the students' perspective on social renaissance and how they can contribute towards this.
At district level, all residents are invited to take part in the discussions and in workplaces, the aim is to know the views of professionals from their specific sectors.
Six aspects have been chosen based on preliminary discussions held recently and these include drugs, crime, education, employment, economy and technology, health and well-being, family dynamics and self responsibility.
Andy Jean-Louis, secretary of the national committee for social renaissance, said there will be TV spots to give the general public information and encourage them to take part in the discussions.
During the workshop, those present discussed other ways on how they can encourage members of the public to join in the national dialogues.
They also discussed on their responsibilities as moderators and secretaries and on the keys to effective discussions.
Mr Jean-Louis said schools will be used as the venue for all discussions as the committee wanted a neutral place so that members of the public can feel comfortable.
There will be six groups in all districts and discussions will take place in classes. Each group will consists of 15 to 20 people and each will work on one of the six aspects.
He is urging members of the public to take part in the dialogues, as it is an exercise which can bring about major changes.
At the end of this exercise, the information collected will be compiled, analysed and compared.
Recommendations will be made and a report will be presented to the government based on findings.
A conference will be organised early next year and a plan of action will be designed and presented to the cabinet.

The first meeting will be held on La Digue on October 8 from 9am to 11am, followed by the two districts on Praslin, while the first on Mahe will be at Les Mamelles. The meetings will be from October 8 to November 16.