Football: Barclays league division one-St Roch, Côte d'Or win
03-October-2011
St Roch keep The Lions rooted to the bottom
St Roch registered a deserved 5-2 victory over The Lions at Stad Linite on Thursday evening to keep them rooted to the bottom of the table.
St Roch have been involved in some high-scoring matches and they followed the trend except that this time round, they claimed all the points.
Nerick Athanase set St Roch on the road to victory in the eighth minute as he flicked the ball home with a delicate touch past goalkeeper Jerome Dingwall from Patrick Bonne's cross (1-0).
St Roch should have doubled their lead in the 14th minute on a counter-attack led by Steven Télémaque who centred to Klaus Pragassen and he eluded the only defender but Dingwall pulled off a great block to deny a goal-scoring opportunity.
The Lions though levelled matters in the 19th minute from captain Michael Ernest's free-kick which Maxime Negale headed powerfully past goalkeeper Terence Lesperance (1-1).
St Roch restored their advantage in the 33rd minute as Pragassen's corner was cleared to St Roch's captain Brian Ravinia on the penalty edge and he had all the time to control and thump a cracking shot which flew into the net past Dingwall (2-1).
The Lions fought back and they equalised 10 minutes later from Leeroy Gomme's corner which was volleyed home by Dine Suzette for a 2-2 half-time score-line.
St Roch once again went ahead on the hour mark thanks to Télémaque's cross from the bye-line which surprisingly slipped through Dingwall's gloves and over the goal-line (3-2).
St Roch stretched their lead in the 75th minute from Télémaque's free-kick from a tight angle and substitute Marcus Emilien back-pedalled the ball which found refuge in the net (4-2).
Seconds later, The Lions suffered further misery when Jules Constance was sent off by referee Kierens Yocette after receiving his second yellow card for some reckless tackles.
On the stroke of full-time, St Roch sealed The Lions' fate as they exposed their defensive shortcomings in the absence of regular captain Jones Joubert.
Télémaque broke clear to link up with Pragassen who unselfishly laid the ball to the unmarked Emilien and he easily drilled it home for a 5-2 final score.
In injury time, The Lions goalie Dingwall produced two brilliant saves in succession to deny firstly Télémaque. The loose ball fell to Pragassen but Dingwall was again equal to the task.
St Roch though had done enough to collect three vital points which propel them into seventh position on 13 points.
Côte d'Or beat LightStars to move into third position
Newly promoted Côte d'Or put one over their archrivals LightStars in a Praslin Derby on Thursday at the Amitié Stadium to win by a single strike.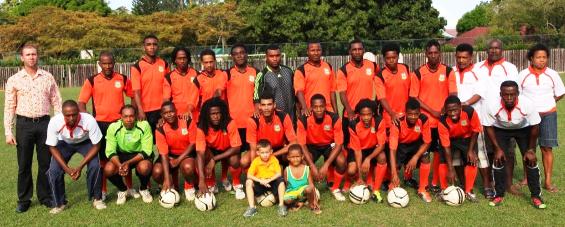 The boys of coach Ahmed Abdou showed that they really mean business in the top flight as they keep maintaining their good form in the league.
On Thursday evening, Côte d'Or created many opportunities against the players of James Barra, but they finally broke the deadlock in the second period through Malagasy Patrick Ramsamimanana with a well-worked free-kick that gave his team a 1-0 victory.
Dynamo and St Francis share the spoils
Northern Dynamo came from two goals down to draw 2-2 against St Francis at Stad Linite on Friday evening in the Barclays league.
Once again St Francis failed to claim maximum points from a strong position.
They took the lead in the seventh minute from a rather controversial goal after George Mondon's long ball from the middle of the pitch. Dynamo goalie Jules Monnaie dropped the ball and the assistant referee James Emile signaled to referee Jean-Claude Labrosse that the ball had crossed the line to give St Francis a 1-0 lead.
The Dynamo camp though protested but to no avail.
Four minutes later, St Francis stretched their advantage as Trevor Vidot made it 2-0 with a shot past Monnaie.
St Francis were the dominant side but they also wasted some decent scoring opportunities such as in the 19th minute when Yves Zialor penetrated the Dynamo defence but shot wide.
Midway in this half, Vidot came one on one with Monnaie who saved his shot.
Dynamo were given a life-line in the 27th minute as Eldrick Adelaide handled Malagasy Asman Todisoa's cross. Referee Labrosse pointed to the spot and Steve Henriette converted for 2-1 score.
The goal boosted Dynamo's confidence and in the 36th minute Marcus Maria did well to hold off three defenders but he failed to hit the target.
Dynamo brought on Evans Télémaque in the second half and 12 minutes after his inclusion he raced onto Francis Moumou's long ball to level the score at 2-2.
St Francis also sent on Alpha Baldé and in the 69th minute he could not direct his header on target from Zialor's pin-point cross.
In the 74th minute at the other end, St Francis goalkeeper Andrea Libanotis produced a double save to deny firstly Todisoa and Maria with a follow-up header.
Zialor also tested Monnaie with a 25m free-kick in the 81st minute but he was equal to the task.
St Francis had the last chance to win the points in injury time but no one connected to Zialor's centre across the face of goal as both teams shared the points.
R. J-L.