Sept 29 - October 1 National Assembly election-Parti Lepep gets absolute majority
03-October-2011
None of the Popular Democratic Movement's (PDM) candidates won a seat and the party did not earn any proportionate seat because the Constitution says a seat is won if a party gets 10% or more of the total – and not valid – votes cast.
Parti Lepep got 31,123 or 88.56% of the 35,145 valid votes which is 60.3% of the 51,592 votes cast as 16,447 votes were rejected.
The PDM polled 3,828 votes which added up to 10.89% of the 35,145 valid votes cast but only about 7% of the total votes cast.
It is Schedule 4 article 78(b) containing the 1996 amendment to the Constitution which talks about 10% of the votes cast.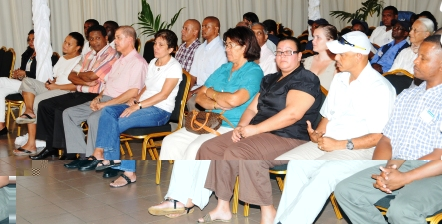 Guests listen as Mr Gappy announces the results

The results, which were broadcast live on SBC television and radio, were announced by chairman of the Electoral Commission Hendrick Gappy in the early hours of yesterday.
The announcement was made at the Electoral Commissioner's temporary headquarters at the National Library building in the presence of representatives of the two parties, the sole independent candidate Jacqueline Hoareau (who scored 194 votes in the Mont Buxton constituency), members of the observer groups, the media, among other guests.
Both parties fielded veteran and new candidates.
Voting started on the outer islands on Thursday but the bulk of polling was on Saturday, when stations reported a steady throughout-the-day flow with hardly any peaks except in the afternoon when more people generally turned up to cast their ballots.
President James Michel and First Lady Natalie Michel voted at Bel Air soon after 10.00am.