Seychelles at Commonwealth Youth Parliament conference
03-October-2011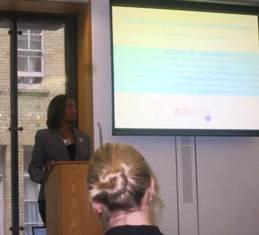 They were nominated by the National Assembly of Seychelles and joined the youths from other Commonwealth countries in a comprehensive programme designed to impart the importance of parliamentary democracy to the new generation.
The conference provided the youths with first-hand experience of the parliamentary process and enhanced their understanding of the role of the legislature.
The highlight of the conference was a keynote debate on a motion that called on all Commonwealth countries to reduce carbon emission by 100% by the year 2050.
In her intervention, Ms Seth described the intention of the motion as a tough fight and advised the conference to consider a long-term plan for the world and to work towards a healthier environment for the future generation.
"Seychelles is a small island state and similar to other developing countries we are not being spared by the surging impact of carbon emission. The youths are aware of the effect of climate change to our countries and to the world. We are supportive of the global call to pacify the impact of climate change and in the Commonwealth spirit we should take the leading role and work hard to make a difference in 39 years," she said.
It was the first time Seychelles took part in the conference of the Commonwealth Youth Parliament.