What the leaders said-'Results express majority view' -- President Michel
03-October-2011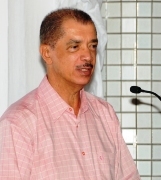 "We have a victory but at the same time we wished that the opposition gained some seats in order to encourage more debate.

While this has not happened, my party will remain committed to engaging the population in a consultative manner for the democratic development of our country."
He congratulated the elected members of his party for their victory, and asked them to make extra effort to consult their constituents in the legislative work that they will undertake.
"We will work hard in our diversity of opinions and we will together seek to forge further our national unity for a New Seychelles...Our elected members need to be visionary in their work for the wellbeing of the people and stay connected with them as much as possible."

He also congratulated the Popular Democratic Movement and its leader, David Pierre, for taking part in the election and giving a voice to opposition views.
"We guarantee to engage all patriotic forces and civil organisations in discussions regarding our country's future," he said.
President Michel said they will be adequately consulted to bring about the electoral and other reforms he is committed to implement.
He congratulated the PDM, especially its leader, David Pierre, for taking part in the electoral process and keep our democracy functional.
He said that despite the difficulties and smear campaign coming from his previous party, Mr Pierre had shown himself a man of courage and not yielded to provocation.
But, above all, President Michel congratulated the Seychellois people for their sense of political maturity as shown by the calm election.
He also called on the newly elected members to work hard to ensure that democracy functions properly and for more performing structures.
"We all belong to Seychelles whatever our political opinion," he said.