Indian defence college delegation visits
04-October-2011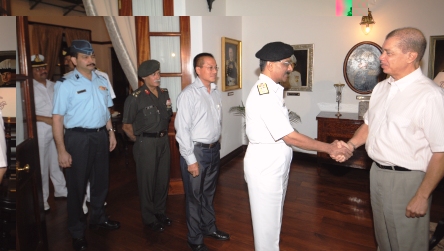 Headed by Rear Admiral Anand Iyer, a senior director at the Indian National Defence College, the delegation of 16 officers was accompanied by Indian high commissioner to Seychelles Thanglura Darlong.
The visit aims to further strengthen the Indo-Seychelles defence and strategic ties in addition to the impetus being given on the economic front, a press communiqué from the Indian High Commission said.
Speaking to the press after meeting the two Seychellois leaders, Mr Iyer described the discussions as "excellent".
"I briefed the two leaders on the various modules of the courses the college offers, we discussed various other issues related to national security, cooperation and defence," said Rear Admiral Iyer.
Mr Iyer noted that the college is a premier national institute, providing training on strategic and security affairs to senior officers of the armed forces from India and other countries.
Some 100 officers receive training every year and a quarter of those come from other countries.
A senior Seychellois officer was enrolled on one of these courses way back in 2002-2003.
During its three-day visit here the Indian defence delegation will hold talks with ministers Jean-Paul Adam (Foreign Affairs) and Joel Morgan (Home Affairs, Environment, Transport and Energy).
It will also visit the islands of Praslin and La Digue, and cultural centres.