Nato commander calls on President Michel
04-October-2011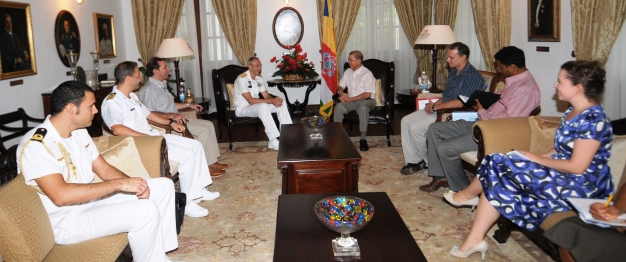 The visit by Rear Admiral Gualtiero Mattesi was the first he paid Mr Michel at State House.
Operation Ocean Shield is the North Atlantic Treaty's Organisation's (Nato) contribution to international efforts to combat piracy off the Horn of Africa.
It started on August 17, 2009 after the North Atlantic Council (Nac) approved the mission.
Meeting the press shortly after meeting Mr Michel, Rear Admiral Mattesi said the courtesy visit to the Seychellois head of State allowed him to discuss Nato's mission in the Indian Ocean and to commend Seychelles for its effort in the fight against piracy in the region.
He added that they also discussed how the Nato can give Seychelles more help to boost its effort in the fight against piracy.
He noted that Nato is focused on the capacity building of regional armed forces, information sharing among other issues.
"Nato is available to provide exercises and is keen to have close relationship with the shipping community to help them better react in case of any possible pirate attacks," he said.
Mr Mattesi was accompanied to State House by the Italian commanding officer of the Andrea Doria – Nato's counter piracy task force flagship – and a delegation of other Italian naval officers serving in the Nato forces patrolling the Indian Ocean region.

They are expected to go back at sea today after a few days' rest.