Early childhood care and education-New framework for coherent approach
05-October-2011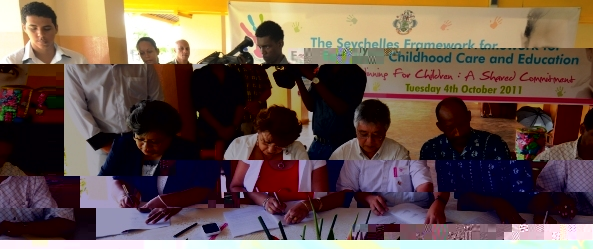 The framework was launched in a ceremony yesterday morning at the Les Mamelles crèche and was attended by Vice-President Danny Faure, cabinet ministers, principal secretaries, members of the Early Childhood Care and Education (ECCE) trust fund, head teachers and educators.
Education, Employment and Human Resources Minister Macsuzy Mondon said that the ECCE is a right under our constitution and an ECCE national committee was set up to plan the way forward for Seychelles.
She added that a common framework enables a more coherent approach and brings together ministries, departments and agencies involved, to work together and avoid duplication of efforts.
The steering committee worked on the framework in collaboration with local consultant Mahrookh Pardiwalla who compiled the information gathered before producing a first draft.

The document was endorsed by the cabinet of ministers last month following some amendments.
It aims to define the concept of the ECCE, describes holistic approaches to it, presents an analysis of the provisions for early childhood in all sectors involved, and also makes recommendations of possible strategies that might be faced.
During yesterday's ceremony, VP Faure officially launched the framework and said the event represents an important milestone on the road to winning for our children.
"We have covered so much ground where the ECCE is concerned, we are determined and we want the strong start, the firm foundation for lifelong learning for our children to become the business of all partners and stakeholders. I am confident that together, we can make it happen," said VP Faure.
"The vision in our framework policy is a unified one. The guiding principles are shared; our beliefs and values about children and early childhood have come from a common thinking and clear understanding of our national context," he added.
During the same ceremony, an agreement was signed by VP Faure and ministers Vincent Meriton (Community Development, Youth and Sports), Bernard Shamlaye (Social Development and Culture), Macsuzy Mondon (Education, Employment and Human Resources), and Erna Athanasius (Health).
The agreement is to formally show the ministers' and their ministries' commitment to carry out the ECCE framework.
Other projects for early childhood development are also being supported by the ECCE trust fund set up in February this year. The government has pledged R1 million to the trust fund.

Mr Faure also made a donation of educational materials to all public and private early childhood centres in the country from day-care level, crèche, to primary one and two. These include LCD televisions, lego sets and radio-cassette recorders.
Seychelles received technical help from the Unesco and Dr Kagan – an ECCE specialist from the University of Columbia – in drafting the framework.