Opening of teachers' exhibition-Youths urged to join teaching profession
06-October-2011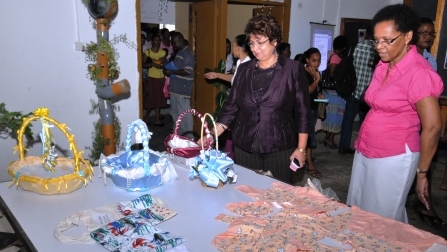 The appeal was made by the principal secretary for Education Merida Delcy at the opening yesterday of an exhibition of art, craft, plants and IT work.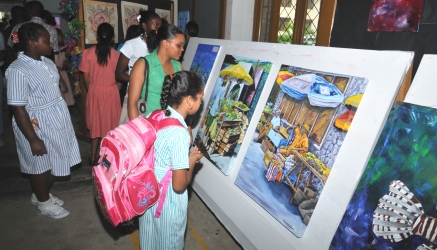 The exhibition, mounted by teachers as part of activities to mark their week, is being held at the Mont Fleuri secondary school hall.
Its official opening yesterday was graced by the presence of the Minister for Education, Human Resources and Employment, Macsuzy Mondon.
"Children are our most valuable resources and they deserve the best teachers to educate, empower and prepare them for life," said Mrs Delcy at the opening ceremony.
The theme for Teachers' Week this year is "Dedicated teachers transform society".
According to Nadine Jack, one of the exhibition's organisers, it showcases whatever teachers do besides teaching and as such shows their additional talents and skills.
There are paintings, photography, fine art, textiles, la couture, floral arrangements, fibrework and IT innovations.
Before the inaugural speech by the PS, two teachers sang songs to mark the event. They were Betty Gina Scolastique of Anse Boileau, who sang "Just because I'm a woman" made famous by Country and Western star Dolly Parton, and Jude Ally of Plaisance secondary who performed one of his own compositions, Trafik.
Mrs Delcy said that with the implementation of the Education Reform 2009/2010, educational institutions have embraced many changes. One of the changes is the introduction of a new Pastoral Care System with codes of conduct for all educational institutions.
She noted that the Pastoral Care System is about character building, respect for self and others, norms and standards. It is also about creating an environment that is conducive for teachers and students alike.
Noting that the prosperity of a country depends largely on the productivity of its workforce, linked to a well trained and educated people, she urged teachers to reflect on their roles and responsibilities in the provision of good quality education.
"My call for you all is to renew your commitment and work together as a team and win for your students and your country."
She said that over the years, the Ministry of Education has done its utmost to promote the talents and creativity of teachers in various forums.
Among the outstanding displays in the exhibition are paintings of landscapes by Gilbert Benoit of Anse Royale school, hats from tanmi koko by Louise Henriette of Anse Boileau and bags by Theresia Julie, to name just a few.
Foods produced by teachers include jam, marmalade, sponge cakes and banana cakes, some of which are for sale.
Two weeks ago, in a Teachers' Talent Show, the creativity of many teachers were discovered through performing arts. On Tuesday, an exhibition focused on the "amazing hidden talents" of teachers from Praslin and La Digue.
Teachers' Week goes on until Saturday when there will be an awards presentation ceremony at the National Sports Council hall, Roche Caiman.