Children get educational items from Order of Malta
07-October-2011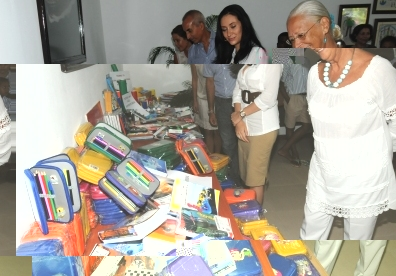 The 1,400 items, including exercise books, notebooks, pencils, pencil cases and markers were handed over yesterday to First Lady Natalie Michel, head of the Foundation, by the Chargée d'Affaires of the Embassy of the Order of Malta in Seychelles, Ms Alexandra Azais.
She said the gift was "wrapped with love", for the enjoyment of the children of the President's Village.
Also present at the hand-over ceremony at the Foundation's secretariat at Bel Eau were its chief executive Noella Gonthier, Jules Hoareau, director of the President's Village at Port Glaud, and a group of children from the President's Village.
Ms Azais introduced Franca Berardi, who she said, is well known at the President's Village, because together with her husband, Luigi, she presented several donations in the past years.

She announced that Ms Berardi has been appointed First Secretary of the Embassy of the Order of Malta since September 1.
Ms Azais said that Ms Berardi just came back from Italy, and having Seychelles in her heart, she got a large number of educational items from the Scuba and Sail Adventures Club.
This club, she noted, generously offered this contribution for the well being of the kids, notably the less fortunate children.
She also expressed thanks to Renato Longobardi, a well-known businessman, who had the generosity to offer the Order a batch of notebooks and pencil cases -- about 300 items.