Mancham to take part in three conferences
07-October-2011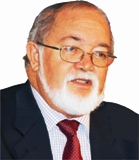 Mr Mancham will first fly to Prague where he will attend a conference on democracy and the rule of law, at the invitation of the former President of Czechoslovakia, Vaclav Havel.
From Prague, Mr Mancham will travel to Cruj, Romania, to take part in a Round Table Conference in the City of Cruj, Romania, on the theme of "Multiculturalism" as guest of the Peace Actions Training and Research Institute of Romania.
Cruj, one of the most touristic cities in Romania, is the capital of Transylvania.
From Cruj Mr Mancham will attend the 7th European Center for Peace and Development (ECPD) Conference on "Reconciliation, Tolerance and Human Security in the Balkans" in Milocer, Montenegro from October 21 – 22, 2011.
Mr Mancham, a member of the Academic Council of ECPD, has been invited to deliver a keynote address at the opening ceremony which will be attended by such personalities as - HE Mr Takehiro Togo (President of the ECPD Council); Professor Negoslav Ostojic (Executive Director of ECPD); HE Mr Milo Dukanovic (former President and former Prime Minister of Montenegro); HE Mr Boutros Boutros-Ghali (former UN Secretary-General); HE Mr Yasushi Akashi (former UN Under-Secretary–General); HE Dr. Erhard Busek (former Special Coordinator of the Stability Pact for South Eastern Europe) and HE Mr John Maresca (Rector of the University for Peace established by the United Nations in Costa Rica).
In a statement issued this morning from his Glacis-sur-Mer office, Mr Mancham said that he will discuss with Mr Maresca the possible collaboration of the UN University of Peace with the University of Seychelles for a special programme on peace education.
He said Seychelles could also constitute an ideal venue for a future "peace conference" organised by the University of Peace.