TEACHERS WEEK 2011-Dedicated teachers transform society
08-October-2011
It urges teachers as the educators of our future generations to recognise themselves as agents of change in our schools, community and society.
During her speech to officially launch the Week on Praslin, the Minister for Education Employment and Human Resources Macsuzy Mondon described teachers as the heart of any society that is progressing: a society where there is national unity and harmony, where pride and aspirations override ideological, cultural and economic differences, where people from all walks of life live side by side, intermingle, and form families, and a society where peace prevails.
"Our roles extend beyond the steps and doors of our classrooms, and permeate the walls and boundaries of our communities, our actions and deeds are replicated by many, the children, the youths and adults who often look up to us as models in the society," said Minister Mondon.
The annual Teacher's Award Ceremony will take place this afternoon to conclude the week's activities. This article brings you a review of Teacher's Week in pictures, starting with the artistic explosion during a Talent show held on September 24, 2011 at the University of Seychelles' Anse Royale auditorium.
The launching of the Early Childhood Frame work on Tuesday October 4 2011 marked an important milestone in ensuring our young generation aged from 0 to 8 years have the right structures in place for their full development.
For the first time this year, in the department's bid to decentralise Teacher's Week, similar activities such as an exhibition and a Moral Renaissance symposium were organised on Praslin in order to allow teachers on the island to also be able to make their contributions.
The Symposium on Moral Renaissance took centre stage in giving those who took part a chance to discuss and make relevant recommendations. During his opening address to officially launch the symposium Designated Minister Mr Vincent Meriton had this message for teachers:
" Koman bann edikater zot annan en rol kle pou zwe dan renesans nou sosyet. Se avek zot ki nou bann zenn I pas bokou zot letan e se zot ki edik e form nou zanfan. Se zot ki kapab transmet bann bon valer"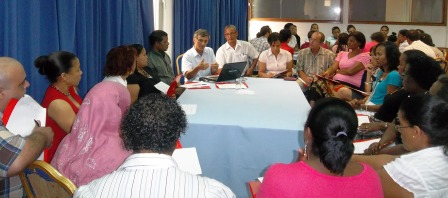 Other activities such as blood donation, Teacher's Day raffle as well as celebrations at school level also marked this special week.
Contributed by the Department of Education