STB hosts Saba press delegates to authentic creole evening
08-October-2011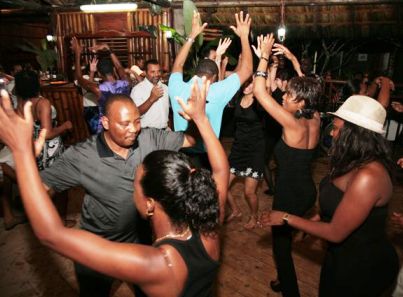 The 19th Saba AGM was this year hosted by the Seychelles islands at Le Méridien Barbarons hotel, under the theme 'Know Your Audience'.
The delegates, consisting of broadcasters from a dozen Southern African countries, were able to enjoy an evening where they could savour the sumptuous Seychellois Creole cuisine of Chez Batista restaurant, located in south Mahe.
Local music group 'Zez' was also present to perform traditional dances – sega and moutya – of Seychelles throughout the evening.
The Creole evening was an opportune moment for members of Seychelles' own broadcasting corporation – SBC – to share the Seychellois culture with its counterparts from South Africa, Namibia, Mauritius, Angola Botswana, Malawi, Lesotho, Tanzania and Zambia.

The evening was also enjoyed by broadcasters from major international channels such as BBC World, the Commonwealth Broadcasting Corporation and Deutsche Welle of Germany, who also attended the conference.

The broadcasters were joined for the Creole evening by representatives of the STB.
After enjoying the delicious Seychellois creole dinner, the guests eagerly attempted the traditional dances and they danced the night away along with their Seychellois hosts and the local dancers.
"We believe in working with the press and the successes of our board are due to the networking we have been able to achieve with the press from all four corners of the world.

Having so many influential press members in Seychelles at the same time was too good an opportunity for us not to join in and showcase our country's unique culture," said Marymonde Matatiken, head of STB's Events and Convention department.