Tuna factory recognises best supervisor and employee
08-October-2011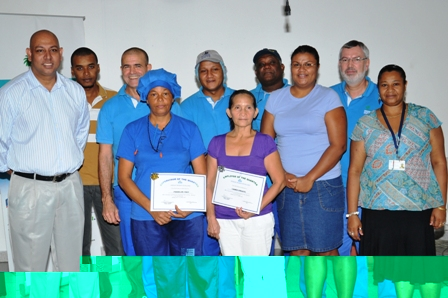 Supervisor of the quarter, Pierreline Vidot, and winner of the employee of the quarter, Enriquez Carmen, received their certificates from the IOT chief finance officer Joram Madnack in a short ceremony held recently in the presence of other staff.
Ms Vidot, who is a senior supervisor in Label and Case, joined the firm 12 years ago. She started as a packer and caser and then became a record keeper. She was later promoted to team leader and thereafter to supervisor in 2007.
In 2008 she became a senior supervisor in the production department.
Ms Carmen, a Filipino, has been working with the IOT for 13 years as a fish cleaner in the production department.
She has been described as a mature, hardworking and dedicated employee.
Mr Madnack congratulated both workers and told them to carry on with their good work.
He said superiors have described Ms Vidot as someone who is always willing to go the extra mile to get things done and she is very disciplined in her daily tasks.
"Miss Carmen is a hard and dedicated employee who is always punctual and is respectful towards others," Mr Madnack said.
Sponsored article