Teachers have the power to shape society
10-October-2011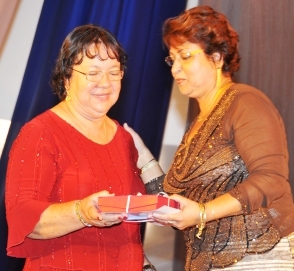 Minister for Education, Employment and Human Resources Macsuzy Mondon said this at the annual teachers' award presentation ceremony Saturday evening at the National Sports Council Hall, Roche Caiman.
Attending the event were President James Michel, Vice-President Danny Faure, ministers and high government officials.
The ceremony was one of the activities to mark this year's 21st anniversary of Teachers' Day in Seychelles held under the theme Dedicated Teachers Transform Society.
During the evening, those who have served the longest years in the profession as well as those who are retiring were rewarded.
The first award recipients were those who have spent 25 years in their profession, coming from primary and secondary schools across the country as well as from the Seychelles Institute of Technology and the Education Department headquarters.
Rose-de-Mai Ernesta from Bel Eau primary, Marie-Ange Hoareau from Baie Ste Anne primary, Erika Wirtz from Beau Vallon primary, Jeanne Etienne from La Misere primary and Wilna Rosine from Takamaka primary were awarded for their long years of service to the schools as they take their retirement.
Gilette Lespoir from Belonie school and Florette Marie from Praslin secondary, two retiring secondary teachers, were also rewarded.
Louisette Morel from the School of Education, University of Seychelles was honoured as the longest serving teacher-trainer while Edna Bellard received the longest serving headteacher award.
This year, Valiama Stravens from Pointe Larue secondary school was rewarded for being the longest serving teacher, having clocked 45 years in the teaching profession.
Mrs Mondon thanked the award recipients for their achievements and long years of service to education and the country's development and all teachers in Seychelles for their hard work.
In her address, she said education can transform society and teachers are the most significant agents – the principal catalysts in the process.
She added that the process to transform society has to begin with a drastic change of attitude in many teachers, along with determination to fix what is not right in the schools.
Mrs Mondon said teachers need to visualise themselves as winners and their role as leaders is an important one.
"Teachers have the power to help students become winners for themselves, their family and for our nation as a whole," she said.
She thanked the parents for their support and encouraged them to help get others on board because they are teachers' most important collaborators in the education and development of their children.
She added that the government remains committed to education and to the welfare of all teachers.
Speaking at the ceremony, Merna Eulentin, a teacher, called on her colleagues to act as agents of positive change.
"Let us be the catalyst that will transform the lives of the children in our care and move our society to greater heights," she said.