Football: Barclays league division one-St Michel clinch last-gasp draw
10-October-2011
At the Amitié Stadium on Praslin, St Francis earned a vital 3-2 away win against LightStars and Northern Dynamo edged St Roch 1-0 in a northern derby at Stad Linite.
Laurence saves St Michel from defeat
This top-of-the-table clash was a fiercely contested affair and the onus was on La Passe to win, especially after they were surprisingly beaten by Anse Reunion in a midweek clash.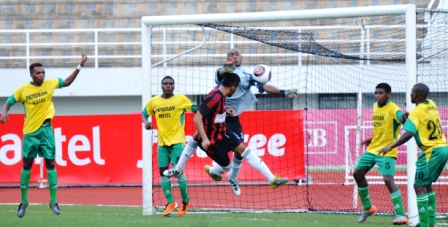 In fact, both St Michel and La Passe had lost their last outing and it was La Passe who were gifted a goal early in the first half as St Michel defender Joel Barbé scored in his own goal for a 1-0 lead.
However, St Michel's Samuel Henriette scored a rare goal to level matters at 1-1.
La Passe's Malagasy Valerie nearly gave his team the advantage before half-time but his strong shot crashed against the crossbar.
The La Digue side's player/coach, Malagasy Bruno Saindini came on in the second period and midway in his half, he tested goalie Nelson Sopha with a thumping shot which came off his chest and there was Valerie to drill home the rebound to make it 2-1.
St Michel were heading for their second defeat, but in injury time, substitute Gervais Waye-Hive put in a decent cross and there was Nelson Laurence who connected with a header to beat goalie Vincent Euphrasie for a final 2-2 score.
The draw helps St Michel maintain their eight-point gap at the top of the standings as they look closer to retaining their title.
La Passe's coach Saindini told Sports Nation it will be difficult to catch St Michel after they blew a great chance.
Northern Dynamo edge St Roch
On Saturday at Stad Linite, northern neighbours Northern Dynamo and St Roch clashed in a very physical match and the latter finished the encounter with only nine players.
Dynamo threatened in the second minute as Francis Moumou flashed a centre across goal but both Valerio Dorothé and Ted Bistoquet failed to connect.
In the sixth minute, Dynamo had a clear chance from Evans Télémaque's hooked cross to Malagasy Asman Todisoa but he could not direct his header on target.
However, St Roch slowly began to dominate the match and in the 15th minute after a mêlée in the Dynamo penalty area, Darrel Forte rifled a shot which was deflected into corner.
In the 26th minute, Klaus Pragassen and Malagasy Nestor Benahovy worked together to open the Dynamo defence but the former's shot was saved by goalie Jules Monnaie.
Dynamo had an open chance in the 32nd minute as Todisoa and Evans Télémaque exchanged passes to release the Malagasy who slipped his shot under the advancing goalie Richard César but the ball rolled agonisingly wide.
Dynamo took the lead in the 55th minute through Damien Tamboo as he scored past César for a 1-0 lead.
The match grew very physical as referee Elzia Michel struggled to control matters and in the 62nd minute, St Roch's Keddy Porice received his marching orders for a second bookable offence after a reckless tackle.
Despite being reduced to 10, St Roch almost equalised in the 66th minute from Stephen Télémaque's drive but goalie Monnaie pushed out the danger.
In the 68th minute, tempers boiled over as the two sets of players converged on referee Michel as Tamboo and Klaus Pragassen were pulled apart.
When the dust was settled, Pragassen was shown a straight red for dissent and this decision really infuriated the St Roch players as they felt hard done by the official.
St Roch though continued to fight on and were denied a penalty in the 77th minute as Steve Henriette brought down Nerick Athanase with a crude tackle.
On a counter in the 81st minute, Evans Télémaque glided through St Roch's defence but his shot was parried by César.
Three minutes later, St Roch should have drawn level after some superb play by Benahovy who lobbed a player before releasing Guerry Uranie who shot in the side-netting with his first touch.
St Roch were determined to earn a point and in the first minute of injury time, captain Daven Belle made a great run before crossing to Athanase whose flick at the near post forced a good save out of Monnaie.
Athanase had another chance in the dying second from player/coach Gerard Gonthier's cross but his weak header r was easily smothered by Monnaie to give his team three vital points.
St Francis earn away win against LightStars
St Francis continued their good form of late as they pulled a stunning 3-2 win against LightStars at the Amitié Stadium on Praslin on Saturday despite being reduced to 10 men.
LightStars though drew first blood as Andrew Jean gave them a 1-0 lead. But their advantage was short-lived as Yves Zialor, who's in a good vein of form, scored twice before half-time to make it 2-1. These two goals brought to four the number he has scored in two matches.
Zialor though turned from hero to villain as he was sent off in the 50th minute for two bookable offences.
LightStars battled to equalise in the 85th minute through Renick Esther for a 2-2 score.
But there was to be more drama as Stephan Barallon broke clear in injury time to beat goalie Jean-Paul Lesperance to give St Francis a 3-2 lead.
LightStars could still have levelled matters with the last kick of the game as Malagasy Mario Ravo out-sprinted the St Francis defence but one-on-one with goalie Andrea Libanotis his shot got stuck in the mud to let St Francis off the hook with three precious points.
R. J-L.