New diploma course to boost skills of district administrators
11-October-2011
The two-year course, a partnership between the Seychelles Institute of Management (SIM) and the department of community development, was officially launched last week by the SIM chief executive Audrey Nanon.
The opening session of the course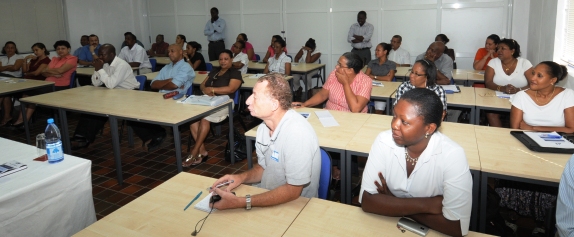 "This is a programme that aims to equip our district administrators with techniques and the capacity to administer public enterprises and to apply the knowledge acquired in dealing with day to day administrative aspects of their communities," she said.
The diploma course comes after a meeting with the country's district administrators in which President James Michel said districts are being empowered to deliver a better service to the community.
Mrs Nanon said the course is initially targeted to the current district administrators but in the future all those aspiring to take up this post will be required to go through this specialised programme.
"You are the pioneers of this course and our expectations are very high. You have to make the most of this training and aim to acquire knowledge and skills which will enable you to be the best in your field," she told the administrators.
The work of a district administrator is quite diverse and covers a variety of services, such as management of government facilities and resources, site and home visits, public awareness, monitor and report on district development projects, provide guidance and assistance to the general public on matters pertaining to housing, social services, emergencies, public works, environmental protection and leisure and recreational activities.
Also present at the launch were principal secretary for community development Olsen Vidot and the course's lecturers.
The students were introduced to their teachers and also given details of how the institution operates, facilities available and details of the course.
Speaking to Seychelles Nation, PS Vidot said the training was one of the department's ambitions and equipping the administrators with more skills would ensure they eventually develop more professionalism in their roles.
"The course is quite adapted to our situation and needs and also provides the administrators with more baggage for their careers," he said.