Ironman World Championships -Baldwin takes runner-up berth and PBs
11-October-2011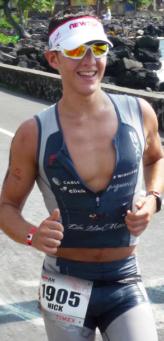 "I had the race of my life," Baldwin told Sports Nation via email from Kona, Hawaii where the energy sapping race took place.
Baldwin went to the worlds with the ambition of achieving a top-five finish and he finished the race on the medals podium and with a new personal best (PB) time of 9 hours 18 minutes 15 seconds (9h18:15) – 9:41 faster than his previous best of 9h27:56 clocked at the 7th Spec-Savers Ironman South Africa at the Nelson Mandela Bay in Port Elizabeth on Sunday April 10 this year to win the 18-24 age group to qualify for Kona.
Baldwin had split times of 1:0014 in the 2.4-mile (3.8km) swim, 4h54:31 in the 112-mile (180km) cycling and 3h18:32 in the 26.2-mile (42.2km) run in Kona. All of his split times are PBs and his transitional times are 1:02.24 (from swimming to cycling) and 2:02.34 (from cycling to running).
"To achieve PBs across all disciplines at a world championship is the most that I could have asked for, and doing so on a tough Hawaii course is even more satisfying.
"The swim conditions were tough, with most athletes, including professionals, taking two minutes longer than usual, due to large swells in the ocean. After exiting the swim in ninth place in my age group, I made inroads on the bike and started the run in third place," said Baldwin.
"With temperature readings on the course reaching 55°celcius and no cloud cover, conditions were brutal. I really had to hurt for the last few miles to finish in second place," said Baldwin who, like always, ran the finishing chute with the Seychelles flag in his hand.
"This race has been my focus for the last 12 months and to pull the results I did today (Saturday) is more rewarding than I can describe," added Baldwin whose next race is Ironman Western Australia on December 4, when he hopes to qualify for the 2012 Ironman World Championships.
Baldwin would like to thank his sponsors Cable & Wireless and Eden Island Marina for their continued support.
Australian Matt Burton won the 18-24 age group in a time of 9h09:42 and German Elias Sander completed the podium, taking third position in 9h19:52.
In the women's and men's professional categories, Chrissie Wellington and Craig Alexander did extremely well to go into the history books.
Alexander set a new course record and became the fourth man to win three titles at the championships in a time of 8h03:56, while Wellington claimed her fourth women's title in 8h55:08.
G. G.