Basketball: National league-Stars reclaim league title with dramatic comeback
11-October-2011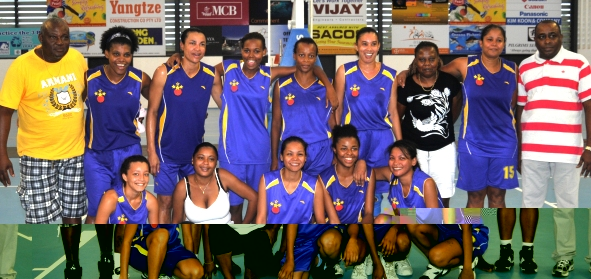 Despite narrowly losing the match 53-55, the Stars were crowned champions on the head-to-head rule as HotShots, who had won the title for three consecutive years in 2008, 2009 and 2010, failed to win the second-round encounter by more than six points – the target they needed to achieve after going down 62-67 in the first-round tie.
Saturday's encounter looked like being a one-sided affair as HotShots comfortably led 21-5 at the end of the first quarter. A bit too casual in their game, the players of coach Philipp Arissol let down their guard in the second, allowing the Stars to close in on them and reduce the gap to eight points – 31-23 – at half-time.
In the third quarter, the Stars stayed focus and kept the pressure on their opponents to reduce the score to only five points – 35-30. A sudden lapse of concentration in offence and defence by the Stars allowed HotShots to increase their lead to 48-34 at the end of 30 minutes of play.
It was in the fourth and final quarter that the girls of coach Michel Malbrook realised that the chance of clinching the league title was slipping away from them. They regained their confidence and stepped up their game to score 19 points compared to HotShots' seven for a final 55-53 score.
Stars concluded the league campaign with 19 points after nine wins and a single defeat. HotShots, on the other hand, still have a game left against Cadettes. They are on 17 points after eight wins and one defeat.
Coach Malbrook attributed his team's success to good team spirit and togetherness. He said that despite several difficulties throughout the season, the players remained focused and placed the team's interests first.
As to their slow start in Saturday's match, he said it was because of a lack of proper training due to bad weather for the whole of last week.
"Our next target is the SBF Cup and we are going all out for the double," he added.
For his part, HotShots' coach Arissol said his players became overconfident after their big first-quarter lead.
He added that they will work on their weaknesses and will be all out for the SBF Cup.
Cobras halt Hawks
Also on Saturday, Premium Cobras slowed down PLS Hawks' title charge with an 83-75 win.
After losing the first half 32-34, Cobras stepped up their game in the second half to win the third and fourth quarters 24-21 and 27-20.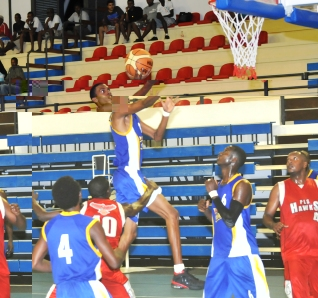 Nigerian Ugbaje Ajodoh was Cobras' top scorer with 27 points, one more than his compatriot Alao Solomon who led the Hawks with 26.
Saturday's win pushed Cobras into the top spot on the league table with 27 points after 12 wins and three losses in 15 matches.
The defeat is Hawks' second after losing to Mont Fleuri Dawgz earlier in the season. They are in the runner-up position with 26 points after 12 wins and two defeats in 14 matches.
Dynamics beat Bullets
RC Dynamics registered their fifth league victory with a 60-52 win over Cascade Bullets on Saturday.
At the half-time whistle, Dynamics were comfortably leading 35-18. It was in the second half that the Bullets improved their game to win the third quarter 20-11, while the last quarter ended on a 14-14 draw for a 60-52 final score.
Emmanuel Larue led the scoring for Dynamics with 14 points, while Biko Biong was Bullets' top scorer with 22 points.
Dynamics are now seventh on 20 points after five wins and 10 losses out of 15 matches, while the Bullets are sixth on 22 points. They have collected 6 wins and 10 defeats in 16 matches.
In two other men's top flight matches played Sunday, Mont Fleuri Dawgz beat Drifters 67-51 for their 10th win in 14 games, and Angels inflicted a 14th consecutive defeat on a 99-85 score on basement team Razors to bring their points tally to 22 (six wins and 10 losses).
Meanwhile, RA Sisters missed reaching the century mark against Cadettes, winning their women's league match 99-18.
R. D.