Israel and Seychelles to strengthen relations
12-October-2011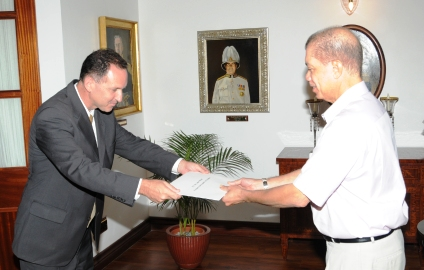 The new ambassador of Israel to Seychelles, Gil Haskel, said this in an interview with the media shortly after presenting his credentials to President James Michel at State House yesterday morning.
He also held talks with Vice-President Danny Faure.
Mr Haskel said during his tenure of office he "would like to do all that is possible in order to develop and fulfill potentials that exist between our two countries to further develop and strengthen our relations".
"We agreed that both Seychelles and Israel have some similar characteristics and face some similar challenges."
"I offered the President our assistance in technological know-how in research, rescue and agriculture.
Agriculture for the sustainability of our society is an important issue that both Seychelles and Israel share," Mr Haskel said.
He pointed out that both countries have limited amount of land and very rough terrain and both countries suffer from water scarcity and dealing with such problems in agriculture development is an area where both countries can cooperate.
"Israel has been grappling with water problems for many years and it has developed highly technological solutions to growing crops in dry climate," he said.
He added that Israel hardly relies on rainfall for agriculture due to its great use of artificial drip irrigation which is highly effective and which the country will be ready to impart to local technicians.
With proper technologies Seychelles will not have to worry about food insecurities as with its tropical climate with high humidity and adequate rainfall, many things can be grown here, he said, adding Israel will be happy to help.
Mr Haskel has invited trainees from Seychelles to come and learn in Israel and Israeli experts to come to Seychelles to explore the surroundings and see how this can be done.
Marine technology is also an area where Mr Haskel said the two countries can cooperate as Israel has some very advanced institutions where experts from both countries can come together and explore our oceans for the benefit of the two countries.
"There are a lot of economic benefits that can come out of the sea and it is something that we can explore together," he said.
As for tourism, he said the name Seychelles itself has a magical effect when it is mentioned in Israel.
"As such, I believe it would be very easy to attract Israeli tourists here."
He said he is ready to cooperate in promoting the industry in both countries.
The possibility of organising an investment seminar in Israel was also discussed with Vice-President Faure.
"The governments of Seychelles and Israel are ready to cooperate in the organisation of the seminar," he said.
"We would like to see Israeli investments in Seychelles," said Mr Haskel.
He described relations between the two countries as magnificent and full of scope for further development.
Mr Haskel, who replaces Jacob Keidar, is Israel's 6th ambassador to Seychelles and is based in Nairobi, Kenya.