Kyokushin karate-Pragassen and Esther promoted to black belt
14-October-2011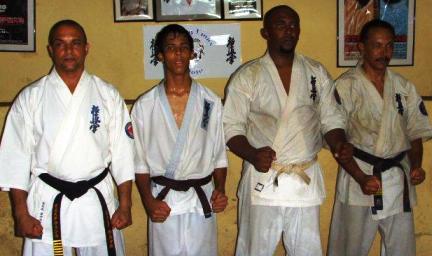 Ryan Pragassen, 15, and Teddy Esther were subsequently promoted to the grade of 1st dan (Shodan) black belt by local Kyokushinkai branch chief Shihan Phillip Moustache, 6th dan who conducted the grading.
Sensei Francis Françoise and Sensei Phillip Verghese, both 4th dan, who will be attempting their 5th dan (Godan) grading in Japan next month under Kyokushinkai Grand Master Kancho Shokei Matsui, also took part in the grading in preparation for their exams.
Joeanne Pragassen was attempting her 1st kyu brown belt grade while Lisa Scherer, who will be leaving for overseas soon, was attempting her green belt.
Three other students –Paul Gédéon, Neddy Robert and Adrian Naidoo – also took part in the grading in preparation for their 1st dan grading early next year.

During the grading, the karatekas were required o demonstrate all the basic and advanced techniques of Kyokushinkai karate which include Ido Kihon (standing basics), Ido Geiko (moving basics), Renraku (combinations) and Kata (forms).
They were also required to perform numerous strength and endurance exercises, katas up to the grade they were attempting as well as do a theoretical exam.
Kumite (fighting) was undoubtedly the hardest part of the test with the number of opponents varying according to the grade being attempted.
The two black belt candidates had to fight 20 opponents with all the fights being conducted under the International Karate Organisation (IKO) full-contact rules. A large crowd of colleagues, parents and spouses cheered them on throughout the fights. All the fighters demonstrated a strong spirit and were still standing by the last fight.

At the end of the grading, Shihan Moustache then informed Pragassen and Esther that they had succeeded in their tests and promoted them to the rank of 1st dan with the title of Sempai.
Pragassen's mother Joeanne was promoted to 1st kyu brown belt and will be eligible to grade for her 1st dan in a year's time provided she continues to train hard. Scherer was promoted to 4th kyu green belt.

Gradings for the other coloured belts will continue during this month and in November.
The Kyokushin karate school now has the highest number – 59 – of Japanese-registered black belt holders in Seychelles than any other karate school in the country.

Congratulations to the two newly promoted black belts.