Standards bureau offers way to fight imports
15-October-2011
Chief executive Amy Quatre of the Seychelles Bureau of Standards said this yesterday when the SBS ran a half-day workshop at the Seychelles Trading Company's conference room, to mark World Standards Day.
"Have your products tested by a competent laboratory to give confidence to your customers that your product is safe and a good as the same products being imported," she told delegates at the workshop, which was opened by the authority's chairman Dr Rolph Payet in the presence of Investment, Natural Resources and Industry Minister Peter Sinon, among other guests.
"Standards are also available to the entrepreneurs who wish to launch themselves into a business; management system standards can be a guide on how to avoid wasting resources, safeguard the public and also maintain health and safety," she said.
Mrs Quatre said standards level the playing field, making transparent the requirements that products must meet on world markets, as well as the conformity assessment mechanisms for checking that these products measure up to standards.
"As a result, suppliers from developed and developing countries can compete on an equal basis on markets everywhere.
"Standards therefore play a key role in ensuring that the global village is both functional and accessible. Therefore the citizen benefits from ease of access of goods and services in pursuit of economic growth and wellbeing," she said.
She said without standards it would be very difficult to function as they affect all facets of our lives.
"It is even more important for a small country like Seychelles that relies a great deal on imports that as we continue to search the globe for the cheapest and yet quality goods that these so called 'quality' aspects be based on international standards.
"By ensuring that products meet the relevant international standards consumers can be confident that the goods or services they purchase are not of sub-standard quality," she said.
Dr Payet said Seychelles' credit rating is improving after the economic reforms launched by President James Michel and the International Monetary Fund forecasts show our growth outlook is very promising.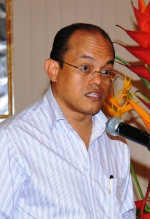 Dr Payet addressing guests at the opening of the workshop
"Foreign direct investment in 2010 stood at US $290 million, which clearly indicates confidence in our economy," he said, calling for standards we can always have confidence in, that can meet international export and import requirements.
Minister Sinon presented certificates and trophies to people who have in the past played key roles in setting up or helped maintain standards.