Mancham delivers keynote speech on multiculturalism at Romanian forum
15-October-2011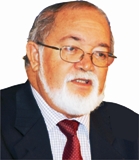 Mr Mancham arrived in Cluj, the second largest city in Romania, on Wednesday to take part in a debate on "Globalization and multiculturalism in the world today", organised by the Peace Action, Training and Research Institute of Romania (Patrir).
Mr Mancham arrived in Romania from Prague, where he had been attending a conference on democracy and the rule of law, at the invitation of the former President of Czechoslovakia, Vaclav Havel.
In an exclusive interview with Cluj Napoca broadcasting service, Mr Mancham described the forum in Prague as being a huge success.
He said that the gathering constituted a think-tank of some of the most important thinkers and achievers of this world to look at some of the most important issues currently affecting mankind.
"The world is quite different today than it was 15 years ago, but I still believe that it is our duty to do everything in our power to articulate a new order to face the threats menacing our civilisation," Former President Havel asserted in his opening remarks to the conference.
Originally intended as a single event, Forum 2011 has developed into a highly successful series and this year celebrates its 15 anniversary.
Over the last 14 years, personalities like Hans Kung, Christiana Amanpour, the Dalai Lama, Arias Sanchez Oscar, Bill and Hillary Clinton, Francis Fujikiama, Farred Zakaria, Henry Kissinger and many others actively and personally took part in the forum.
This year's list included such important actors on the world stage like Joseph Stiglitz (Nobel Prize laureate in economic sciences, professor Colombia University USA) , Peter Eigen (founder and chairman of the advisor council of Transparency International), John Ekuofo (former President of Ghana), Vartan Grigorien (President of the Carneigy Cooperation of New York), Prince El Hassan Ban Talal (chairman of the West Asia-North Africa Forum of Jordan), Garreth Evans (former Minister of Foreign Affairs of Australia and now chancellor of Australian National University), Jacques Rapnik (political scientist of France), former President Obasungo of Nigeria, the current President of Georgia, the current President of Kosovo and Mr Mancham (former President of Seychelles).
Mr Mancham was particularly active in the panel session concerning the law and environment. He cited several aspects of the problems Seychelles is facing from global warming to threat of piracy.
Questioned by the Romanian TV network as to the main purpose of the forum debates, Mr Mancham said that the purpose of these meetings was to keep alive the faith in good society and the trust that good society is not an idle dream, but a tangible possibility, and that turning that possibility into reality is something which human beings of good will and dedication hope to accomplish.