Joker Crew finish second in The Battle of the Year
15-October-2011


Joker Crew in action during the competition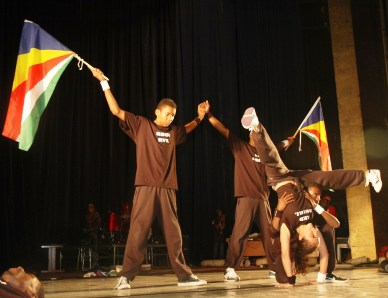 Other than Seychelles and host Zimbabwe, Mauritius, Ghana, Nigeria and Morocco took part in the event. South Africa and Tunisia could not make it due to either immigration problems or financial constraints.
"We met a lot of people in Zimbabwe and we now have a lot of opportunities to organise exchanges," said Julie Nacey, who added that a smaller delegation is travelling to South Africa this weekend.
"We are going there to do some networking. Hopefully we'll have a better chance of being exposed as dancers.
"The Zimbabwe trip was a very interesting experience and we learned a lot in terms of skills. In fact, we got into the finals against Zimbabwe, but because its team was more synchronized than ours, it came out first and will be going to France for another competition. Although we finished second, we displayed a lot of individual skills," she said, looking pleased.
Nacey said they had a chance to speak to the judges who pointed out their strengths and weaknesses.
"We were really happy because at the end of the competition the judges told us we have a lot of new techniques which they have appreciated. Zimbabwe knew what to expect as it has taken part in several of these competitions. This being a new experience, we felt a little intimidated when it came to battle time," she said laughing.
"It was a good experience and we now know what we need to work on," she added.
While in Zimbabwe, the crew did a lot of promotion for Seychelles and themselves.
"We did a few interviews with local newspapers and international magazines like Hype as well as on TV. A lot of people were really surprised because they did not think Seychelles has hip-hop dancers. We were hounded by questions and a lot of people actually followed us in the tournament to see if we really were competing," she added.
Before the tournament, group leader Darrell Roucou held a workshop in the suburbs where the kids he taught went on to win first prize in their category in the tournament.
Since then, most of the dancers have been trying to squeeze in some rest time but they want our ideas to become reality.
"We've submitted a proposal to the Ministry of Community Development, Youth and Sports and to the National Arts Council on the subject of developing hip-hop dancing in Seychelles and even adding a new festival to the culture. We also want to be able to host workshops and are running dance classes for members of the public interested in various dance forms like hip-hop, modern, jazz, ballet and contemporary to name a few.
"This has been possible through our partnership with a new firm – Invictus – who specialises in events and entertainment and who has generously lent us a studio named 'Let's Bounce' located in the new OJ building in town," added Nacey.
"We are very enthusiastic about the future and we count on the support of the public, our families and sponsors for us to grow," she said.
Joker Crew would like to thank all their sponsors – the Round Table who helped them on site, the Ministry of Community Development, Youth and Sports, Tequila Boom, Takamaka Bay, La Fontaine Restaurant, Deepam's Cinema, Romeo Travel Services and La Faya Bar – for making their dreams come true.
To find out more about dance classes or how you can help the crew, please contact Julie on 2577216 or Darrell on 2581839.
R. C-T.