Seychelles gets 10 development scholarships from Australia
17-October-2011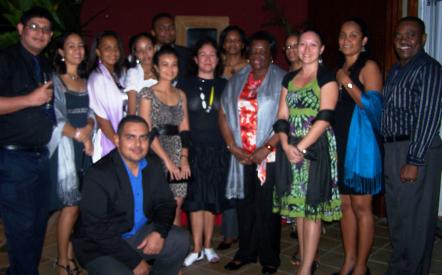 These Masters level scholarships are part of the Australian Awards which are offered to Africa.
The Seychellois awardees of the Australian Development Scholarships are Venessa Quatre (Department of Environment), Carol Low (Seychelles Bureau of Standards), Hansel Confiance (Ministry of Foreign Affairs), Bettymai Cupidon (Ministry of Community Development, Youth and Sports), Ziyaad Ebrahim (Ministry of Finance and Trade), Davis Laporte (Central Bank of Seychelles), Joanne Fred (Ministry of Health), Beryl Camille (Ministry of Education), Livia Lespoir (National Sports Council), Catriona Shamlaye (Department of Education).
The Australian high commissioner, Sandra Vegting, hosted a reception last week at her residence in honour of these awardees.
Three short-term scholarships in Diplomacy, Trade and Technical Vocational Educational Training were awarded to Wendy Isnard (Ministry of Foreign Affairs), Rudy Rose (Ministry of Finance and Trade) and Jean Alcindor (Ministry of Education, Employment & Human Resources) earlier this year under the same scholarship programme.
The Australian Development Scholarships and the Australian Leadership Awards Scholarships are now open to the public, private and civil society sectors in Seychelles for the 2013 academic year. More information about these scholarships is available on www.adsafrica.com.au.