Football: Barclays league division one-St Michel edge closer to title
17-October-2011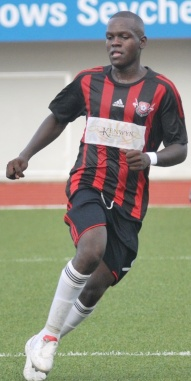 Laurence heads St Michel to victory
St Michel seem to be feeling the pressure as they laboured to see off Praslin-based LightStars who have parted company with coach James Barra.
LightStars almost stunned them in the second minute as Ernesto Doway broke clear but he failed to beat goalkeeper Nelson Sopha. In the 20th minute, Renick Esther ran at the St Michel defence which backed off allowing him to fire narrowly wide of Sopha's goal.
St Michel though enjoyed plenty of possession and opened the scoring in the 28th minute from Gervais Waye-Hive's corner which sailed to Allen Larue who headed the ball to Nelson Laurence who, in turn, headed home for a 1-0 lead.
In the 42nd minute, LightStars goalkeeper Denis Fideria plucked the ball off Laurence's head from Waye-Hive's cross.
St Michel upped the tempo in the second period and in the 52nd minute, Alex Nibourette fed Wilnes Brutus who looked suspiciously offside and his cross from the bye-line fell to Leeroy Corallie whose shot was cleared on the goal-line by defender Fabien Albert.
In the 58th minute, St Michel's substitute Karl Hall sent in an inch-perfect pass to Brutus who headed over from six metres out much to the annoyance of the St Michel supporters.
Hall again created a decent chance in the 67th minute after combining with Larue who looked marginally offside and he cut the ball back to Waye-Hive who fluffed the opportunity. A minute later, Larue picked out Hall's run and the lanky midfielder tried to lob Fideria but failed.
St Michel were all over LightStars who, at times, were very physical with some crude tackles, but in the 69th minute, Brutus should have killed off their resistance as Waye-Hive floated an inviting cross but Fideria charged down his shot.
In the 81st minute, LightStars should have stunned St Michel as substitute Andy Brioche released Malagasy Mario Ravo who centred to Renick Esther but he failed to hit the target with a free header.
Three minutes later at the other end, Hall linked up with Brutus to filter a pass to Nibourette whose strong shot was pushed out by Fideria as St Michel grinded to a 1-0 final score.
St Michel need three more points in their next match on Saturday against second placed Côte d'Or to secure another title.
Côte d'Or on cloud nine
Malagasy Nicolas Simouri scored a second half hat-trick as newly promoted Praslin side Côte d'Or tore apart St Roch on Praslin on Saturday with a crushing 9-0 win – the biggest in the league this season.
Marlon Sophola opened the floodgates for coach Ahmed Abdou's team and they never looked back as Malagasy Patrick Ramsamimanana, Collin Esther, Rick Bibi and Hubert Ernesta got their names on the score-sheet for a 5-0 half-time advantage.
Malagasy Nicolas Simouri scored a second half hat-trick and Francis Louis completed the 9-0 rout which helped the Praslin side to climb into second position.
The Lions move off the foot of the table
Cascade-based The Lions gave themselves a massive three points with a 3-1 victory against Anse Reunion on La Digue on Saturday, propelling them into ninth position as St Louis Suns crashed to the bottom of the league table.
Dine Suzette gave the boys of coach Fernand Gamatis the lead in the second half. Carlos Mondon extended The Lions' lead to 2-0 before Darrel Lesperance guaranteed all three points from the penalty spot for a 3-0 lead after Anse Reunion's Pierre-Luigi Nibourette had brought down Randolph Lablache in the penalty box.
Anse Reunion's Malagasy striker Jean-Estel Baransuice scored a consolation goal for a final 3-1 score in favour of The Lions.
R. J-L.