Chinese ambassador Wang says farewell
18-October-2011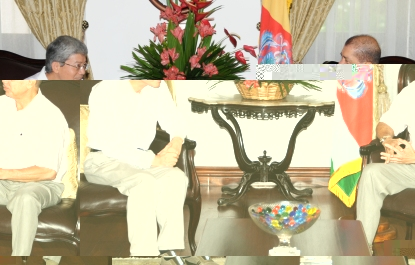 Mr Wang, who is coming to the end of his three-year mandate, was the 11th ambassador of the People's Republic of China to Seychelles since the two countries established diplomatic relations in 1976.
He was accredited to Seychelles in May 2008, replacing ambassador Geng Wenbing.
Emerging from his last meeting with President Michel, Mr Wang described his mandate as a very pleasant experience.
"Working in Seychelles has been a very pleasant experience for me because I was among friends and I got lots of help from government and other officials," said Mr Wang.
"I am leaving very happy because relations and cooperation between China and Seychelles are very good," he added.
Mr Wang said he learned a lot from Seychelles' experience, notably the economic reform programme and the environment protection measures the country has adopted.
"I bid farewell, but I know relation will continue to grow further and get better and better and soon a new ambassador will be accredited to continue the work that has been ongoing," Mr Wang said.
"He will continue the work to further strengthen relations between China and Seychelles," he stressed, noting that the two countries have many ongoing projects, such as the judiciary building on Ile du Port and hopefully more to come.

Mr Wang also said the two countries will continue with their exchange programmes in many areas.

Before being accredited as his country's ambassador to Seychelles, Mr Wang occupied several diplomatic posts in the Chinese embassy in Tanzania and Kenya and he was also director general of Hong Kong, Macau and Taiwan affairs.
The diplomat, who has been in the diplomacy field since 1974, said when he leaves Seychelles he will be carrying with him some very fond memories and wonderful pictures of our islands which he will continue to cherish.
Mr Wang, who is going back to China to retire, said he hopes to come back to visit as he has made many friends during the three short years spent here.
"I have built a strong friendship and I feel sad to be leaving all my friends," he said.