Over 80 police officers promoted to various ranks
18-October-2011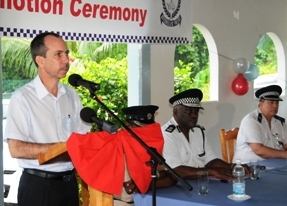 Minister Morgan addressing guests and officers during the promotion ceremony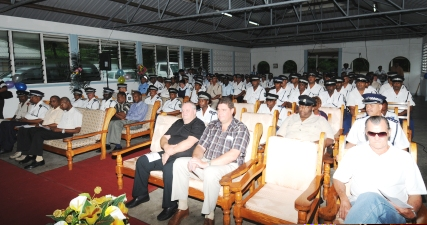 The event was graced by the presence of the Minister for Home Affairs, Environment, Transport and Energy Joel Morgan, Commissioner of Police Ernest Quatre, executive members and other partners of the police department.
The officers were promoted to the ranks of lance corporal, corporal, sergeant, sergeant-major, sub-inspector and inspector. The biggest number of officers promoted to a rank was 37, who advanced from lance corporal to corporal.
Speaking at the event, Commissioner Quatre said it is his wish that they prove that they are worthy of the promotion and asked that they take their new ranks as no decorations, but as symbols of responsibility, leadership, command, discipline and all other attributes necessary to portray them as true professionals.
"I also ask that each and every one of you be an inspiration to your juniors and subordinates," he said.
"The expectation out there for the services we deliver is so high that we almost cannot afford to make one single mistake. Yes, we are human, but one thing we must all bear in mind is that the oath we took as police officers makes us different from others."
He added that their roles are crucial for safety and security of the nation and such responsibility cannot be jeopardized in any way.
"So my main message to you newly promoted officers is to try your very best to deliver to our society's expectations," he said.
Minister Morgan said there has been a significant rise in the number of crimes and that the officers must rise to meet the demands of society in tackling crime head-on.
"You must be able to continue to ensure that the country remains stable, and I expect that you perform your duties to the fullest extent of your abilities and no less, leading by example," he said.
"The work that you do on a daily basis reflects the qualities that you have and I would like to see us continue to improve some key elements in the police force that will ensure that we can continue to progress in the near future.
"We will continue to support you in every way, such as with training with the help of our partners and we will build new facilities for you, to ensure that you are fully equipped to discharge your duties."
Mr Morgan said that senior officers awaiting promotion should not be disheartened as their performances were being scrutinised and that they will be getting theirs soon according to their merits.